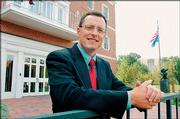 Kansas University Alumni Association president and CEO Kevin Corbett ran competitively in high school and was an avid golfer as a Kansas University student.
These days most of Corbett's running includes racing through airports, between events or getting to his two sons' Little League games. Similarly, his trips to the links usually involve meeting new KU students and their families at clubhouse barbecues.
"Between my travel schedule and my job, and my wife and my children, there's not much running and golfing anymore," Corbett said with a laugh.
Corbett, 39, began the job in mid-November after seven years with the KU Endowment Association, having been instrumental in its recent $653 million KU First campaign. Now, as he begins a new era in the association, he has a travel itinerary to rival a professional sports figure.
In July, Corbett planned to be out of town for 14 of the first 25 days, joining staffers and students pulling a giant Jayhawk-emblazoned trailer across the state to welcome incoming freshmen and their parents. The team planned stops in Baldwin, Dodge City, Emporia, Garden City, Great Bend, Hutchinson, Kansas City, Newton, Salina, Wichita and Winfield to distribute T-shirts, dictionaries and other Jayhawk paraphernalia while picnicking with new recruits.
At the same time, he and his staff scheduled similar events in Denver, Missouri, Nebraska, Texas, Chicago, New York, Philadelphia and Seattle in addition to meetings with traditional alumni and retired faculty members.
Long-term goals
"To go where we want to go, we have a lot of work to do, and that's going to take resources," said Corbett, explaining those resources include volunteer as well as financial support. "So we have a statewide plan and a national plan to build a volunteer structure that will include educational, athletic and social programming for alumni nationally."
In general, he said, universities are becoming more reliant on alumni - including current students as well as graduates - to be their representatives in helping to attract state and federal funds, bringing in new students, helping support programming and research, as well as making their own financial commitments to the schools.
"We are helping the university recruit students," Corbett said. "We are helping the university with legislative advocacy. We are helping the university identify funding sources. We are pulling people together and keeping them engaged in the issues. That way, when you need that support, it will be there."
Different path
It is a new direction for a group that once spent much of its energy organizing game day watch parties or rallying alumni support with golfing tournaments.
"We're kind of taking an evolutionary step in a direction that has not been done here by becoming a philanthropic opportunity for our supporters," Corbett said.
"I think our role is more a facilitator," he said of the association. "We're facilitating programs and events that appeal to alumni and that they then can find ways to support the university in terms of volunteerism and private support."
The association has 47,000 members and a budget of more than $4 million, but Corbett said there were as many as 170,000 current and former KU students who could be helpful to the school.
By getting to know incoming students and families, for example, Corbett said the Alumni Association was banking on their continued commitment to KU.
"Once they graduate and move to Chicago, it's hard to get them back," he said.
Once a Jayhawk ...
Corbett, a native of Norman, Okla., said it was not difficult for him and his wife, Jill Bolamperti Corbett, to return to Lawrence in 1997. The two are 1988 KU alumni; Kevin received his degree in psychology, and Jill, a native of Omaha, Neb., earned one in personnel administration.
Kevin began his career in the KU Endowment Association but later advanced through similar jobs with the University of Georgia, Colorado's Western State College and the University of Oklahoma, where Jill obtained her master's degree in adult and higher education. She now works as a part-time program coordinator in KU's Continuing Education Office. They have two sons, ages 10 and 7.
"This will be my last job," Corbett said matter-of-factly. "I had one of the best jobs in the country and to leave that : I mentally made that commitment.
"It's great to represent an organization that I have a lot of interest in seeing succeed," Corbett said. "This is my school. So this is it for as long as they'll have me."
Copyright 2018 The Lawrence Journal-World. All rights reserved. This material may not be published, broadcast, rewritten or redistributed. We strive to uphold our values for every story published.