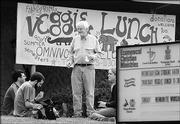 Seek and ye shall find.
That's pretty much the situation for Kansas University students who come to campus looking for opportunities to enhance their spiritual lives.
There's some type of group or ministry available for people of just about any religious background.
"Absolutely. There's tons of different faith-based groups. I just found what works the best for me at ECM (Ecumenical Christian Ministries)," said Megan Storm, 21, a KU student from Yankton, S.D.
Storm has plugged into a number of satisfying activities, like an alternative spring break to New Mexico, through Ecumenical Christian Ministries, 1204 Oread Ave.
"I would say that my friends have all at least tried different organizations. I know that they've gone to church services and that kind of thing," Storm said.
The Rev. Thad Holcombe, longtime pastor at ECM, agreed with Storm's view.
"It's all over the place - there are ample opportunities for students to become involved in finding an expression for where they are in their faith journey," he said.
"Diversity within the Christian faith is there, from very conservative to very liberal. Then there's also opportunities at the mosque (Islamic Center of Lawrence, 1917 Naismith Drive) for Muslims, St. Lawrence Catholic Campus Center (1631 Crescent Road) and KU Hillel (940 Miss.) for Jewish students."
The Rev. Steve Kawiecki echoed Holcombe's assessment of the spiritual offerings at KU and in the Lawrence community.
"There's a plethora of ministries that seek to do outreach with college students. Our group, KURA (Kansas University Religious Advisors) - which contains many of the leaders of the religious groups on campus - has in its membership organizations from all aspects of religious life," said Kawiecki, associate pastor of student ministries at First Baptist Church, 1330 Kasold Drive.
Some of these religious groups are denominationally linked, others are para-church organizations and still others are affiliated/linked with a local church or parish.
The list of Christian ministries that do outreach at KU includes Lutheran Student Fellowship, Victory Campus Ministries, American Baptist Student Fellowship, Navigators, Campus Crusade, Icthus and Chi Alpha.
Many KU students - both undergraduate and graduate - get involved at the outreach ministry of Christ Community Church, 1100 Kasold Drive.
"Those young adults, what they want more than anything is somebody to be straight with them and to share with them their firm convictions. They don't want somebody beating around the bush with them. That's why I appreciate ministry to them so much," says the Rev. Bill Hurlbutt, senior pastor.
There's no shortage of KU students looking for a place to serve as their spiritual home.
"I always assume that there are those kids out there who are interested in developing or growing in their religious life. This is not always true to form, but most kids who seek out opportunities here at KU have families that have been deeply rooted in faith," Kawiecki said.
"Thus, the kids have been taught the faith for most of their lives, and when they come to college, it is time to embrace the faith for themselves. At one point, faith must be taught, and at another point faith must be caught."
Copyright 2018 The Lawrence Journal-World. All rights reserved. This material may not be published, broadcast, rewritten or redistributed. We strive to uphold our values for every story published.