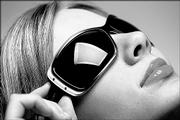 In the fashion world, it seems the phrase "the bigger, the better" is rarely uttered, but when it comes to this season's sunglasses, size definitely matters.
Giant, oversize frames are gracing the faces of glamour girls worldwide - from penny-pinching yet stylish college students to high-paid celebrities.
The big, dark, chunky frames once worn by notables such as Jackie Kennedy, Twiggy and Elizabeth Taylor are now seen on the likes of Jessica Simpson, the Olson twins, Lindsay Lohan, Pamela Anderson, Brittany Murphy, Scarlett Johansson, Sharon Stone, Mischa Barton, Rachel Bilson, Paris Hilton, Kate Hudson and Gwyneth Paltrow. And it's not just Hollywood types sporting the look - Laura Bush, Camilla Parker Bowles and Hillary Clinton have all been spotted in dark, oversize frames.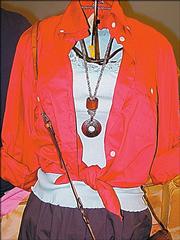 High-end designers from Prada to Gucci to Marc Jacobs sell the style, but knock-offs and lower cost versions also are available. You can find frames from $20 to nearly $300 and in a variety of colors and shapes.
Just be sure to try several pairs before you buy, as certain shapes and sizes can easily overwhelm your face. Channeling Jackie O. is the goal; looking bug-eyed is a problem.
Find your thrift favorites
You can find quality clothing for a bargain that's unique, too, at several locations in Lawrence; some also are consignment shops. Here are some hot shopping stops for finding less expensive fashions: ¢ Arizona Trading Co., 734 Mass. ¢ Flush, 17 E. Seventh St. ¢ Goodwill, 2200 W. 31st St. ¢ Lasting Impressions, 711 W. 23rd St. ¢ Lawrence Social Service League, 905 R.I. ¢ Penn House, 1045 Pa. ¢ St. John's Rummage House, 1246 Ky. ¢ Sugartown Traders, 918 Mass. ¢ Wild Man Vintage, 939 Mass.
Copyright 2018 The Lawrence Journal-World. All rights reserved. This material may not be published, broadcast, rewritten or redistributed. We strive to uphold our values for every story published.