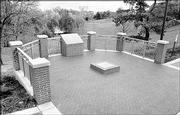 The finishing touch - a 7-foot sculpture called "Korean Cranes Rising" - was installed April 1 along Memorial Drive.
"It's wonderful," artist Jon Havener said, looking at his creation. "It's how I always imagined it to be. We get it bolted down and I can sit back and look at it from different positions. I''ve been looking at it in my studio and the driveway for too long."
A crew lifted the 400-pound copper sculpture onto a brick base and secured it into place.
It depicts four intertwined cranes, which are a symbol of spirituality, peace and happiness in Korea. The cranes represent the four entities involved in the conflict: the United States, North Korea, South Korea and China.
KU had approximately 60 students, faculty, staff and alumni who died in the war.
The memorial, which was scheduled to be dedicated during a ceremony April 16, includes the names of those 60, benches and a plaque explaining the war.
Memorial Drive also includes Memorial Stadium and the Kansas Union, which are memorials to World War I veterans; the Campanile, a World War II memorial; and the Vietnam War Memorial.
Nearly all of the $100,000 used to fund the Korean project was donated by Koreans - both those living in the United States and alumni living in South Korea - who wanted to honor the Americans who fought for their country.
Havener, a KU design professor, worked on the sculpture for a year. He said he worked especially hard on the piece because it was a memorial and because it would be on campus for generations to come.
"I've been at KU 28 years, and they've really supported my creative activities and my creative efforts," he said. "And so it was really an opportunity for me to give back."
Jeff Weinberg, assistant to Chancellor Robert Hemenway, was pleased with the outcome.
"It's just amazing," Weinberg said. "What the crane stands for is so fitting - dedication, peace, spirituality, love, happiness. What could be more fitting to honor the KU students, faculty and staff who gave their lives?"
Copyright 2018 The Lawrence Journal-World. All rights reserved. This material may not be published, broadcast, rewritten or redistributed. We strive to uphold our values for every story published.