Todd Wyant said he could have sent his state tax return through the telefile system days ago, but it wouldn't have been as much fun as going to the downtown Lawrence post office Friday night.
As Wyant shuffled through the line to mail his return, the sound of the Alferd Packer Memorial String Band and the smell of free "roadkill stew" filled the air.
It was tax night, and in Lawrence that means a party.
"I'm just seeing what the scene is, checking out that music," Wyant said.
Dozens of tax filers and party seekers packed in and around the post office, 645 Vt., for the annual festivities.
Though the tax-night party has been a Lawrence fixture for nearly 20 years, Friday's celebration provided tax procrastinators with the added incentive of appearing on national television. TV crews were on hand to tape a segment for "CBS News Sunday Morning."
CBS reporter Bill Geist said he first heard about the Lawrence party from a member of the Alferd Packer band a day after last year's party and decided the event would be worth a story. Geist and the CBS crew had to travel back to Kansas City Friday night to begin editing the footage to air on Sunday -- a time crunch, but worthwhile for the story, he said.
"Everybody is always in a bad mood at tax time, and so this was unique," Geist said. "We like it when people go out of their way to be a little bit nuts."
The event doesn't just make for good television. It also helps improve the stress-filled atmosphere at most post offices across the country.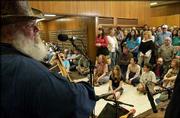 As she cheerfully directed customers to the appropriate filing bins, Postmaster Judy Raney said the Lawrence party helped keep her staff amiable.
And the therapeutic magic of the tax party is not lost on procrastinating filers.
"They're not quite so down about having to pay taxes with some nice music going on and people smiling," Raney said.
The event has become so well known that it now draws dozens of people who have already filed but just want to get in on the fun.
Lawrence's tax party will be on "CBS News Sunday Morning," which airs between 8 a.m. and 9:30 a.m. Sunday. The segment is scheduled to appear about 9:15 on Sunflower Broadband channels 5 and 13.
Lawrence resident Denise Machell and her daughter Emma, 11, decided to check out the tax party for the first time.
"We decided that this sounded like a pretty good place to spend a Friday night," Denise said as a balloon artist placed an inflated palm tree on Emma's head. "It couldn't be a nicer night for it."
Copyright 2018 The Lawrence Journal-World. All rights reserved. This material may not be published, broadcast, rewritten or redistributed. We strive to uphold our values for every story published.