Luckily for Lawrence High girls swimming coach Ryan Adams, Thursday's dual loss to Shawnee Mission South happened early in the season.
"Afterward, I just sat everyone down and reviewed the scenario that we lost by just two points," said Adams, whose squad fell, 94-92, to the Raiders Thursday afternoon at Knox Natatorium.
"I kind of reiterated the point that every single person in every event matters."
The Lions' dual meet Thursday mirrored Lawrence's second-place showing in a home triangular Tuesday -- the first meet since spring break.
"There's still a little bit of rust," Adams continued. "Obviously, coming off spring break and how we performed on Tuesday, I didn't think we were going to be awesome today, but we did show some signs of improvement."
Indeed, the Lions did improve as LHS swimmers finished first in half of the events.
"It's a little bit discouraging to have back-to-back second places knowing how close we were today," senior Julia Szabo said.
"But at the same time this part of the season is a learning experience, and we had some young girls who really stepped up today and helped us out."
Adams pointed out that freshmen Paula Kyriakos and Hannah Buchner had big afternoons.
Buchner won the 500 free in a time of 5:47.24, took second on two relay teams, and was third in the 200 individual medley.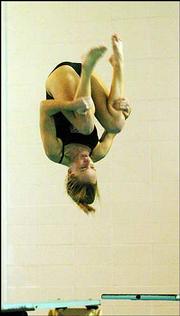 Kyriakos, meanwhile, took second in the 100 backstroke, her lone individual event.
Adams also said that newcomer Kate Rowden was making strides.
The junior was a lifeguard the past couple of years, before several LHS teammates convinced her to join the team.
"To have those kind of girls step up and deliver like they did today is just a big time positive," said LHS senior Kristen Longanecker, who was second in the 100 breast.
"It was kind of a bummer that we lost again, but we can at least take a few positives from this one and use it as a learning experience."
The next Lions meet will be a monumental one, because Lawrence High will play host to Free State High on Tuesday in the first regular-season dual between the city schools.
"All I know is, that one will be a lot of fun," Adams said. "There are a lot of girls who know each other real well. I don't think it's quite the same rivalry as in other sports, but it will be fun nonetheless."
Copyright 2018 The Lawrence Journal-World. All rights reserved. This material may not be published, broadcast, rewritten or redistributed. We strive to uphold our values for every story published.