Of all its soccer losses this season, Lawrence High's 3-2 defeat Tuesday against Blue Valley stung the worst.
The Lions (1-6) all but had the game in the bag before letting it slip out of their grasp, and the dejected scowls and shaking heads of the LHS players after the game showed they knew it.
"This is one more game we should have won," senior defender Pharouk Hussein said.
There's little doubt about that. An own goal and a late penalty kick allowed the Tigers to steal the game in the final 18 minutes at the Youth Sports Inc. fields and hand Lawrence another devastating defeat.
"We didn't maintain our focus, which we have to do, and they took advantage of that," LHS coach David Platt said. "We didn't give it to them, but we didn't do what we needed to do to seal the deal. We didn't quit. We just lost a little bit of focus."
Lawrence gave a focused, aggressive effort for the entire first half, outshooting Blue Valley 9-3 and constantly hounding the Tigers' goal. After close calls by Chris Cates and Adam Renfro in the opening minutes, senior Daniel Miranda put the Lions on top 1-0 in the seventh minute when he beat the goalkeeper one-on-one. A handful of near-misses followed, and LHS kept Blue Valley off the board through halftime.
In the second half, Lawrence's attention wavered and everything snowballed. The Tigers were relentless for the first five minutes and evened the score on Ricky Pinney's goal in traffic.
Renfro put the Lions back on top four minutes later when he capitalized on Blue Valley's lazy defense and buried an uncontested shot into the upper left corner. But back on top with a 2-1 lead, things suddenly went totally nutty for the Lions. They continued to outplay Blue Valley, but an LHS header went haywire and bounced into its own goal, tying the game.
Finally, a Lawrence defender was whistled for a foul in the goal box in the 73rd minute, setting up Marshall Stula's game-winning penalty kick.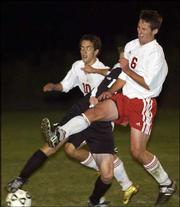 "We have to keep our mentality up," Hussein said. "We have a good team, it's just when we're up we sometimes lose ourselves in the moment and forget to play defense or keep our intensity up. It always hurts us."
The problem was easily identifiable and is correctable, but the correcting part is taking a bit longer than planned. Blown leads and late-game mistakes have become a trend the Lions are trying to kick.
The dropped a pair of one-goal losses earlier in the season. Then two weeks ago they allowed perennial power Olathe East to score two goals in a three-minute span late in the game to win, 3-1.
"We've been up a couple of times and we've always lost our head," Hussein said. "We've been trying to work on it, but late in the game it's just not there."
LHS returns to action at 7 p.m. Thursday against Topeka High.
Copyright 2018 The Lawrence Journal-World. All rights reserved. This material may not be published, broadcast, rewritten or redistributed. We strive to uphold our values for every story published.