When Lawrence High tennis coach Dick Wedel asks senior Laura Wilson what she thinks of his homemade bungee training device, she reluctantly lets out a sigh and a giggle.
The giggle is the response most players give when they first see the 10-foot rope.
The sigh is their admitting that even though it seemed foolish at the beginning, the bungee cord has done nothing but good.
"I thought, 'This guy's crazy. What's a bungee cord going to do to help us?'" senior Amy Bullerman said. "It makes you realize that, yeah, you have to hit the ball well, but moving your feet is the most important thing."
Aside from Wedel's affinity for fishing, he has become a veritable Inspector Gadget since his retirement in 2002 after 35 years of teaching at Lawrence Alternative High. In the closet adjacent to the Lawrence Tennis Center, where LHS practices and competes, are his "toys."
Stored with the bungee cord, there are ropes, NERF footballs and his latest invention -- a concoction made from PVC pipe, a rope and a tennis ball.
The device is tied to the top of a fence and forces players to extend their bodies fully on serves.
"This gives them the feel of the ball being way up there and having to reach with your arm extended," Wedel said. "I'd be rich and famous if this was the one that made everyone say 'Oh, wow!'"
Money is the farthest thing from Wedel's mind, though, when it comes to his unorthodox methods of improving tennis players. He uses a variety of items, and just hopes is that each player can find just one that rings a bell.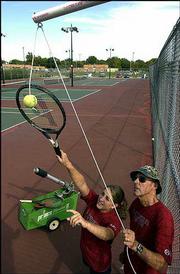 "You have to say it as many different ways as you can, because not everyone learns the same way," he said. "Somebody hears something different, and something just clicks."
Wedel's inventions result from knowledge gleaned after coaching tennis at LHS since the late 70s.
One favorite is making his players practice with footballs. The pink-and-black NERF balls help kids with their serving techniques just as much as the PVC device.
"If a kid can throw a spiral, they should be able to hit a serve with the correct wrist action," he said.
The list goes on and on.
Lawrence High golfer Sydney Wilson will be among the favorites today at the Class 6A regional at Topeka Public Golf Course. Tee times begin at 9 a.m.Lawrence and Free State will be in the field as golfers try to qualify for Monday's 6A state tournament at St. Andrew's Golf Course in Overland Park. The top two teams and the top five individuals not on those teams will advance.Wilson, the 6A state runner-up last year, won the Sunflower League meet last week at Meadowbrook.High school tennis players also will begin postseason play today. Lawrence and Free State will play in the 6A regional at Overland Park. Play will begin at 9 a.m. at Indian Creek Rec Center.LHS finished fourth at last week's league meet. Free State, meanwhile, will try to bounce back from a ninth-place finish at league after finishing no lower than third the previous five seasons.
There's 'serving for snacks,' where Wedel places a rope in the shape of a circle on the opposite side of the court with a candy bar in the middle. The first person to serve the ball inside the rope gets the treat.
Wedel typically does not make up names for his devices or his drills. The only object in the closet that he has given a specific name is something he didn't invent at all, but instead pleaded the administration for for years until finally receiving it in the late 80s.
It's a green tennis-ball machine that he named after former KU basketball great Danny Manning.
"When Danny played at Lawrence High School his senior year, the team was very good," he said. "Every home game, they packed the gym. We made so much money on ticket sales for basketball, that the athletic department had extra money. I never thanked him for it, but that's why I call it the Danny Manning Memorial Ball Machine."
None of Wedel's inventions are used to punish his players, but instead to help them have fun while practicing. Some even have too much fun with it. Especially with the bungee cord.
"We'll snap each other," said senior Katie Robertson, who likes to tease her doubles partner, senior Shannon Wanna, with the bungee.
Even when Wedel's players whine about having to use the practice devices, he says he can point out how it's benefiting them while they're competing. Also, it gives him something fun to do during his time since retirement.
"Some of them don't like it, and they'll complain of course, but it's their job to complain," Wedel said. "I have to keep myself amused. Not everyone's amused, but if I am, then I'm happy."
Copyright 2018 The Lawrence Journal-World. All rights reserved. This material may not be published, broadcast, rewritten or redistributed. We strive to uphold our values for every story published.