When Susan and John Gauch were looking for faculty positions 12 years ago, they asked prospective universities about their tuition assistance programs for their children.
They already had a boy and a girl, and they later would have another boy. They hoped all would go to college -- and were thinking about how they would pay for it.
"I'd say it was within the top three or four criteria -- how can I afford to live, and what's the cost of living in the location," recalled Susan Gauch, who along with her husband is an associate professor of engineering at Kansas University. "We've considered moving to other universities that offer free tuition."
Officials at some state universities are lobbying the Kansas Board of Regents to allow them to offer free or reduced-rate tuition for spouses and dependents of faculty and staff as a way to recruit and retain employees.
But KU administrators -- and even some faculty and staff leaders -- say they're not eager to join the push for tuition reductions because the benefit would affect only some staff.
"The money would come from somewhere," said Susan Twombly, chairwoman of the University Council. "Would it come from annual merit salaries? We're wondering if it's fair to give a benefit to one group of people."
Fort Hays State University last year proposed allowing tuition waivers for dependents of faculty and staff, but regents said they preferred to have a statewide policy on the issue.
This time, the request has come from Kansas State University. The Council of Chief Academic Officers, which includes provosts from each of the six state university campuses, endorsed a plan that would allow each campus to decide whether it would pursue tuition reductions or exemptions.
Now, the Council of Business Officers, which also includes representatives from across the state, is analyzing the potential financial impact of tuition waivers.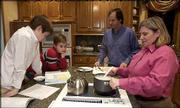 David Shulenburger, provost and executive vice chancellor for KU, said a recent analysis showed KU would lose about $2.4 million a year in tuition if children of faculty and staff were allowed free tuition.
"The enormous problem for us is how we would replace $2.4 million that we now have," he said. "It's a huge recruitment tool for private universities, where tuitions tend to be quite high. It's worth a lot less here because tuition is lower. It's not the recruitment tool here it would be at a private institution."
Dan Consolver, president of the Unclassified Professional Staff Assn. at KU, said a few years ago -- before universities were allowed to keep tuition revenue generated on campuses -- the waivers might have seemed more attractive.
"With tuition retention, a dollar of tuition not collected is a dollar of tuition not spent on the institution," Consolver said. "My expectation is the average unclassified employee would see it as taking money from everybody to fund a smaller group."
For the Gauches, whose children are 10, 13 and 16 years old, the possible tuition waivers now are less of an issue. They're hoping their children attend college out of state.
But Susan Gauch said she could see the waivers helping some employees.
"KU's salaries tend to be lower," Susan Gauch said. "It could be an attractive benefit for faculty and staff in areas where salaries are lower."
Copyright 2018 The Lawrence Journal-World. All rights reserved. This material may not be published, broadcast, rewritten or redistributed. We strive to uphold our values for every story published.