Overland Park — Jeff Colter learned an important lesson in Lawrence High's loss two weeks ago to rival Free State: Let the ball come to you.
Colter caught a deflected pass in the end zone on the final play of the first half Friday night at Blue Valley Northwest, and the Lions blanked the Huskies, 17-0, in the first round of the Class 6A state football playoffs.
"I saw the ball in the air," Colter said. "I knew from the Free State game not to go after it and let it tip back. This time, I was more patient."
In the waning moments of the Lions' 14-12 loss to the Firebirds, Colter couldn't haul in a pass in the end zone that bounced off the hands of teammate Nolan Kellerman. Friday at BVNW, LHS was clinging to a 3-0 lead and facing a fourth-and-three from the Huskies' 36 when Brian Heere heaved a pass to the end zone. The ball bounced off the hands of teammate Richard Demby, was deflected by a Northwest defender and caught by Colter.
"It was big," Colter said. "It got everybody excited and fired up the crowd. We had momentum."
And a 10-0 lead.
That relatively small advantage seemed huge at halftime of a game that featured little offense. Blue Valley Northwest running back Brian Thies entered the game with more than 1,000 yards rushing, but LHS (5-5) limited the senior to 27 yards on 10 carries. The Huskies (7-3) earned just two first downs -- none in the first half -- and finished with 35 total yards. LHS coach Dirk Wedd credited defensive coaches Scott Stidham and John Reed after the Lions posted their second shutout in as many weeks.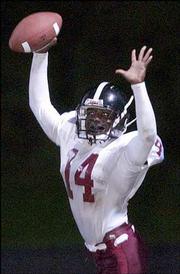 "Defensively, they played their hearts out," said Wedd, whose team defeated Topeka High, 57-0, last week. "Coach Stidham and coach Reed had a great game plan, and the kids did a great job."
Lawrence's offense did its part by keeping the ball away from BVNW with scoring drives of 16, 11 and 12 plays. LHS finished with a modest 181 total yards, but 12 first downs kept the chains moving. The Lions ran 58 plays, compared to 31 for BVNW. Kellerman led a balanced ground game with 51 yards on 14 carries.
Facing a double-digit deficit and unable to run the ball, the Huskies were forced to go to the air. Senior quarterback Steven Fee had completed 55 percent of his passes through nine games, but he was three-for-16 for 14 yards against LHS, including two-of-13 in the second half. He threw 11 consecutive incompletions down the stretch.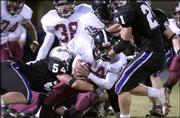 "We try to do the same thing they do with ball-control offense," BVNW coach Tenny Dewey said. "We couldn't do that tonight. They did an excellent job."
LHS had taken an early 3-0 lead when senior Liam Kirby kicked a 36-yard field goal with 7:58 left in the first half. It was the first field-goal attempt of the season for LHS, which had an injured long snapper early in the season.
"He stepped up and did a great job," Wedd said of Kirby, who also made both his extra-point attempts.
LHS put the game out of reach with 3:44 to play when Demby took a lateral from Heere and threw a 26-yard halfback pass to Brandon Lassiter in the end zone.
On Friday, LHS will play Olathe South, a team that defeated Lawrence in overtime during the regular season at Haskell Stadium.
"That would be great," Colter said of a rematch. "That's been in the back of our minds since we lost to them."
Copyright 2018 The Lawrence Journal-World. All rights reserved. This material may not be published, broadcast, rewritten or redistributed. We strive to uphold our values for every story published.