Overland Park — As a district runner-up, Lawrence High will have to start the Class 6A football state playoffs on the road. That's just fine with the Lions, who are 1-4 at Haskell Stadium and 3-1 everywhere else.
"We've played well on the road," said senior running back Ian Handshy, who rushed for 472 yards and six touchdowns in three district games. "We don't mind going to somebody else's house and beating them."
That is the Lions' task at 7 tonight at Blue Valley Northwest. LHS (4-5) will be the underdog against the district champion Huskies (7-2) -- at least on paper.
"Once you're in the playoffs, it doesn't matter what your record is," said senior running back Jeff Colter, who leads LHS with 829 yards rushing. "It's all about winning the state championship."
Lawrence High's record was just plain ugly early in the season when LHS dropped its first three games. Colter and Handshy both were hampered by illness, and the Lions struggled with a lineup that included only three senior starters on offense and two on defense.
LHS turned the corner with a 48-27 victory at Shawnee Mission East in week four and followed that with a 42-21 victory at Shawnee Mission South. Colter and Handshy got healthy, and Lawrence's underclassmen grew up.
"We've improved every week," said Lawrence coach Dirk Wedd, whose team hasn't faced Blue Valley Northwest since 1996. "I don't think there's another Sunflower League team that has played as much youth, but we're not using that as an excuse."
LHS won four of six games down the stretch, suffering an overtime loss to Olathe South and a two-point setback against rival Free State.
Both those games were at Haskell.
"We've had good luck on the road," said Wedd, whose team steamrolled Washburn Rural, 33-7, during the first week of district play at Topeka. "Our kids have played well. The kids have a lot of confidence hopping on the bus and going to play."
Home and away hasn't made much difference for Blue Valley Northwest, which has won six in a row.
The Huskies are led by senior tailback Brian Thies (5-foot-11, 190 pounds), who has rushed for more than 1,000 yards. BVNW also will have backup Joe McTaggert and fullback Scott Havens in the mix.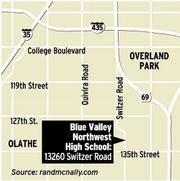 BVNW coach Tenny Dewey compared Havens (6-2, 210) to Lawrence's Handshy (6-2, 210) in size and running style.
The Lions also rotate three backs in their offense. Backup Nolan Kellerman has rushed for 379 yards and seven TDs.
"It's a heck of a challenge," Dewey said of Lawrence's running game. "They shift a lot. They have good linemen and good, athletic ball carriers. You have to know your assignments, play good defense and, hopefully, survive."
Unlike LHS, which has completed only 45.3 percent of its passes and runs on 86.7 percent of its plays, BVNW quarterback Steve Fee has completed 55 percent of his passes.
"I think we've got a shot," Wedd said. "We'll have to play our best game all year, and I don't think we've played our best game yet. I think we have a great upside."
When: 7 tonight.Where: Blue Valley Northwest District Stadium.Television: None.Records: Lawrence High 4-5, BV Northwest 7-2.
¢
LHS fans are asked to sit on the east side of stadium, which is located at 13260 Switzer. Tickets are $4 for adults and $3 for students. No passes will be accepted.
Copyright 2018 The Lawrence Journal-World. All rights reserved. This material may not be published, broadcast, rewritten or redistributed. We strive to uphold our values for every story published.