Sam Constance and Irakli Mirzashvili grew up on opposite ends of the globe.
Constance was born at Lawrence Memorial Hospital. Mirzashvili knew nothing about Kansas until he was 12.
On Sunday, at Kansas University's 132nd commencement, they had common bonds: They both became KU alumni, and they were both in awe of the Jayhawk graduation tradition.
"I had no idea what it would be like," said Constance, who had been to several previous KU graduation ceremonies. "It was so cool looking down and seeing all the people."
Mirzashvili, who had never been to a KU graduation, was equally impressed.
"When I got to the end, I looked up at the Campanile, with all the people coming down and the scenery, and I just really thought it was all worth it," he said.
For Constance, who received a bachelor's degree in music theory, KU traditions have been a part of life as long as he can remember. His parents, Dennis and Virginia Constance, both attended KU and have had basketball season tickets for years.
Constance said his parents often took him to The Wheel, a popular KU hangout, when he was a baby and would set him on the bar, in his car seat. They also took him to campus to celebrate the night the Jayhawks won the 1988 NCAA basketball tournament.
"I think a part of me has taken the tradition for granted," he said. "It's a backdrop of my entire life. It's been a part of me as long as I can remember."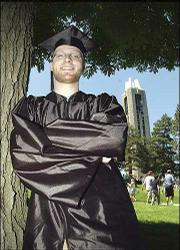 Mirzashvili, meanwhile, first learned of Kansas thanks to an earthquake. Joe and Ann Fitzgerald, from Ness City, had planned to visit Armenia, a former Soviet republic, on vacation in the early 1990s. But they were rerouted to Georgia, also part of the former U.S.S.R., after an earthquake struck in Armenia.
It was there they met Mirzashvili's family, and later invited him to Ness City as a high school exchange student. They later offered to help pay for college at KU.
Unlike Constance, Mirzashvili said it took him awhile to get used to KU's school spirit. He said Georgians mainly get excited about national soccer games, not college athletics.
"The school has a song," he said. "I thought that's strange. But I really like it."
And the Jayhawk mascot?
"I know it's not a real bird," he said. "but it's on everything so I just accepted it like everybody else."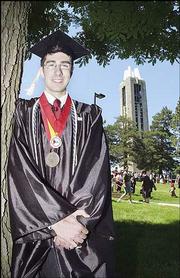 Mirzashvili, who received degrees in political science and international studies, said KU's graduation was more of a celebration than commencements in his home country. He was particularly amused by the medical students, who sprayed champagne everywhere when it was their time to be conferred.
"It is a tradition, and when you think tradition you think formal," he said. "This just seems very relaxed."
Though one was well versed in KU traditions and one was new to them, Constance and Mirzashvili both said walking down Campanile Hill for graduation made them feel like true Jayhawks.
"My associations with graduation were it's a long, hot day sitting through a bunch of speeches," Constance said. "But there was that extra aspect of walking down the hill. I was surprised how new it was to me."
Mirzashvili added: "It makes you feel like you're part of this huge community. Even though we have different interests and we'll all be doing totally different things next year, we go together down the hill."
Copyright 2018 The Lawrence Journal-World. All rights reserved. This material may not be published, broadcast, rewritten or redistributed. We strive to uphold our values for every story published.