Kansas University legend Emily Taylor was frank and persuasive, diligent and determined. She saw no boundaries to what could be accomplished, those who knew and worked with her said Sunday afternoon during a memorial service.
"She taught us how to do the right thing; she taught us how to lead," said Kala Stroup, who worked with Taylor when Taylor was KU's dean of women and later succeeded her at that position.
About 250 people gathered in KU's Lied Center to pay tribute to Taylor, who died May 1 at the age of 89. There was no public funeral service.
Before her death Taylor outlined her own memorial service, with its focus on primary aspects of her life, including her effort in the area of women's causes and her career at KU; as director of the Office of Women in Higher Education of the American Council on Education in Washington, D.C.; and her involvement in health issues while serving on the Kansas State Board of Healing Arts and while working to form the Caring Community Council.
"I think she would have been pleased," said Taylor's sister, Genevieve Taylor McMahon, during a reception after the service. "I think she had a premonition that this would be her last year. She wanted the major phases of her career to be covered."
Taylor was a mentor to numerous female students and a determined administrator, Stroup said. During the 1970s she helped KU administer the Title IX federal mandate to equalize women's athletics, and she listened to campus protesters trying to bring about change on key issues.
"Emily always listened," Stroup said. "Emily listened more than anyone else."
When women left KU and entered the corporate world they called Taylor when they encountered inequality of the sexes under the so-called "glass ceiling."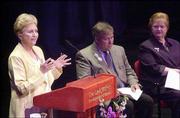 "Emily was only a phone call away," Stroup said. "We knew she knew what we were talking about."
During her work in Washington, D.C., Taylor showed "incredible control and the ability to do what was necessary," said Donna Shavlik, who worked under her. "She was a woman who gave her life to the advancement of women and a few good men."
Stacy Cook considered Taylor a mentor. She got to know Taylor when she served on the board of healing arts. Cook, a board attorney, was amazed at how well Taylor, then in her 80s, could absorb massive amounts of details she outlined with a highlighter in documents studied.
"There was no detail that missed Emily Taylor's highlighter," Cook said. "She just never let up in what she did and she made us better."
Taylor's work in the area of health continued during her attempts to get physicians to better manage pain medication for those who were terminally or critically ill, said Donna Bales, of the Kansas Life Project. She described Taylor's passion as similar to "evangelic fervor."
Taylor's nephew, Drew Catan, said Taylor's relatives would miss seeking her advice.
The family of Emily Taylor has suggested memorials to the Emily Taylor and Marilyn Stokstad Women's Leadership Lecture series. Contributions can be sent in care of the KU Endowment Association, P.O. Box 928, Lawrence 66047.
Copyright 2018 The Lawrence Journal-World. All rights reserved. This material may not be published, broadcast, rewritten or redistributed. We strive to uphold our values for every story published.