Topeka — Kansas courts could hire 27 more employees, including a judge for Douglas County, under a proposed judiciary budget endorsed Tuesday by the House Appropriations Committee.
The committee's proposal would increase the judiciary's funding by $3.6 million, to a total $102.3 million. However, it also would also force the Supreme Court to renew surcharges on court fees to help pay for the judicial branch's operations.
Those surcharges, imposed in 2002 on what was supposed to be a temporary basis, added $5 to most filing fees and raised the cost of a marriage license from $50 to $75.
As approved on an 11-7 committee vote Tuesday, the judiciary's budget for the fiscal year starting July 1 would give all employees a 3 percent raise, as well as add the 27 staff positions.
Among the new positions would be one district judgeship in Douglas County and one magistrate each in Dickinson, McPherson and Reno counties.
The extension of the surcharges beyond their scheduled June 30 expiration would allow for funding existing operations as well as the raises and the new positions.
Rep. Bill McCreary, R-Wellington, chairman of an Appropriations subcommittee on the judicial branch, said requiring the Supreme Court to keep the surcharges in place will free up general state revenues for other programs.
But some Appropriations Committee members still thought the proposed budget too generous. Rep. Joe Shriver said the extra money for the courts could instead strengthen social services.
"There are a lot of agencies that want extra money," said Shriver, D-Arkansas City. "I don't think the budget committee went through it well enough."
McCreary, however, noted that the judiciary has sought more personnel for several years.
House Appropriations Committee's proposed budget for the judicial branch:Current budget: $98,749,564.2005 budget: $102,303,016.Increase: $3,553,452, or 3.6 percent.Source: Kansas Legislative Research Department
"They know better than we" the level of staffing needed to operate the courts, he said.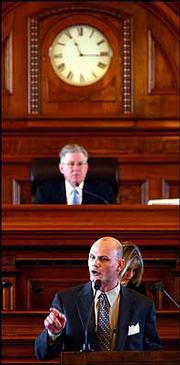 Copyright 2018 The Associated Press. All rights reserved. This material may not be published, broadcast, rewritten or redistributed. We strive to uphold our values for every story published.