With two deaths linked to heat and drug use last weekend at a Tennessee music festival, organizers of the Wakarusa Festival are urging concertgoers to behave responsibly this weekend.
"If you do stupid things, stupid things will happen to you," said Brett Mosiman, owner of Pipeline Productions and one of the organizers. "Everybody has to be wise and put on their sunscreen and drink their water."
Here are some of the precautions being taken at the Wakarusa Festival, the biggest of its kind to be attempted in Douglas County:







Event planners worked with Lawrence-Douglas County Fire & Medical to arrange for on-site emergency medical technicians, a medical tent and an ambulance, they said. They also identified a place where a helicopter could land in case of emergency.
First aid stations will be open around the clock.
The Douglas County Sheriff's Office, which is being paid about $22,000 by the organizers to provide extra security, will have between five and 15 deputies on hand throughout the four-day festival.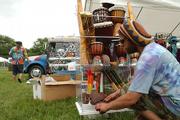 The deputies' main duty will be to provide back-up to a private security firm from Oklahoma that's doing most of the work. The private firm will have about 150 security people on hand during the festival.
"If there's something they can't handle, we're there for it ... we're not there to put a damper on anything," said Sheriff's Lt. Don Crowe.
In regard to illegal drug use, Crowe said, "We're not going to go in search of it, but if there's a flagrant violation, we will take action."
To keep liquor from being brought into the concert area, people will be allowed to bring in only two kinds of bottles: factory-sealed water bottles and empty water bottles they can fill up at drinking-water stations.
Security workers will patrol campgrounds to make sure campfires aren't set in dangerous places. They'll pay extra attention to entrances and places where money is kept, said Nate Prenger,a another organizer.
"We're pretty confident that we have it covered," he said. "There will be a presence everywhere, just in some areas it's a little more concentrated."
Copyright 2018 The Lawrence Journal-World. All rights reserved. This material may not be published, broadcast, rewritten or redistributed. We strive to uphold our values for every story published.