Topeka — A former secretary of the Kansas Department of Transportation is mounting an independent campaign to unseat U.S. Sen. Sam Brownback, R-Kan.
Horace Edwards, 79, of Topeka, said Wednesday he was upset with the direction of the federal government and was running to restore fiscal integrity. He also said he was upset by polarization of the country, which he said was being fed by politicians.
That means Brownback should be replaced by someone "whose voice is clear on matters of substance," Edwards said.
Edwards was secretary of transportation under Mike Hayden, a Republican who served as governor from 1987 to 1991. Edwards was instrumental in passage of the state's first comprehensive transportation program.
To get on the November ballot, Edwards must file a petition with the secretary of state's office by noon Aug. 2 with signatures of 5,000 registered voters.
Edwards said he was winding down ownership of his engineering consulting firm.
Brownback, 47, was elected to the Senate in 1996. He faces Arch Naramore, 52, of Lawrence, in the Aug. 3 Republican Party primary. Naramore is co-owner of Kansas Key Press Inc., a direct mail and printing business.
Two Democrats are vying for their party's nomination: retired railroad worker Robert Conroy, 76, of Shawnee, and Lee Jones, 53, of Lenexa, a former lobbyist for the nation's railroads.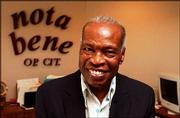 Edwards said he faced an uphill campaign, but was looking forward to debating issues with Brownback and is confident that he can win.
"Simply giving Kansans an opportunity to draw the contrast between what I'd like to talk about, what needs to be done, and what needs to be emphasized, I think there might be the surprise of surprises," he said.
Copyright 2018 The Lawrence Journal-World. All rights reserved. This material may not be published, broadcast, rewritten or redistributed. We strive to uphold our values for every story published.