Mary Burchill hopes to help resurrect a Kansas University tradition Saturday, but it will take the help of 16,299 fellow Jayhawk basketball fans.
Burchill, a KU basketball season-ticket holder since 1968, has compiled the words to the Wheaties jingle the pep band has played since 1971 after opposing players fouled out. A new NCAA rule bans the band from playing the song, so Burchill figures KU fans should sing it instead.
"The traditions are what make the game fun," she said. "If they have the words, I have confidence students will do it. All it takes is a few to start to get it going."
Burchill and Tom Stidham, who directs the basketball band, hope KU fans will pick up on the Wheaties lyrics for Saturday's home game against Texas Tech, which tips off at 3 p.m.
The song originated in a 1971 Wheaties commercial starring NBA hall-of-famer Willis Reed. In the commercial, Stidham said, Reed missed a dunk because he didn't eat his Wheaties.
Jim Barnes, who directed the pep band at the time, wrote an arrangement of the song, and KU fans sang along while waving the wheat. General Mills even sent Wheaties boxes to Houston for KU fans to wave during their team's Final Four appearance that year.
Fans eventually stopped singing the words, but the band kept playing the song.
That stopped this year, when KU administrators told Stidham to heed an NCAA rule that says the band can play only before and after the game, at halftime and during timeouts -- and not during other dead-ball situations.
Stidham contacted General Mills about getting the lyrics, but the company said an advertising agency handled the jingle and the words weren't available.
So Burchill, who has been compiling information for a book about KU basketball traditions, and several other KU fans put their minds together to recall the words of a song they hadn't sung in 30 years.
"They're very close to perfect, if not perfect," Burchill said.
Stidham plans to direct the crowd in the Wheaties song to make sure everyone sings together.
"That's definitely the hard part," he said. "To get it to really work, I'd have to be the one to kick it off. It'll be important to really do it together."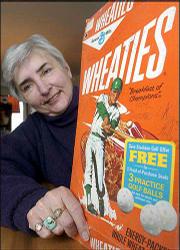 Here are the lyrics to the Wheaties jingle, as compiled by Mary Burchill."So long, you didn't have your Wheaties.So long, we hate to see you go.Too bad, you didn't have your Wheaties.So sad, you didn't win the game."
Copyright 2018 The Lawrence Journal-World. All rights reserved. This material may not be published, broadcast, rewritten or redistributed. We strive to uphold our values for every story published.