Shortly before joining a Wednesday panel discussion at Kansas University on recent events in Ukraine, Ivan Bekhta called his wife in Lviv.
"She said there are no young people in Lviv -- they've all gone to join the protests in Kiev," said Bekhta, a North American Studies professor at Lviv National University and, since November, a visiting scholar at Kansas University's Center for Russian and East European Studies.
"She said there are only elderly people on the streets. Everybody else is gone," he said, addressing a standing-room-only audience in the center's cramped, third-floor library in Bailey Hall.
The city's residents, Bekhta said, "left for one reason: that Viktor Yushchenko be president."
Yushchenko reportedly -- final results have not been officially certified -- lost to Viktor Yanukovych in a Nov. 21 national election, triggering huge protests and allegations of widespread abuse.
"No one is disputing the fact that there was massive fraud," said Paul D'Anieri, a KU political science professor who studies Ukrainian politics and who's traveled to Ukraine at least once -- and sometimes twice -- a year for the past 11 years.
"I was there the week before the election, and (Yanukovych supporters) went out of their way to show how they were in control of the outcome," D'Anieri said. "It wasn't meant to be a secret."
Yanukovych, the current prime minister, enjoys the support of Russian President Vladimir Putin. Yushchenko is considered pro-Western.
KU economics professor Alexandre Skiba, who is from Rivne, Ukraine, bristled at recent analyses linking the protests to deep, long-standing differences between east and west Ukraine.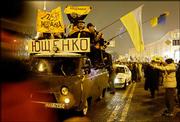 "That is absolutely not the issue," said Skiba, noting that east Ukrainian voters did not protest the election of Yanukovych's two predecessors, both of whom, like Yanukovych, had been accused of corruption but won in less-fraudulent fashion.
"The issue is widespread abuse and fraud -- in-your-face fraud," Skiba said.
D'Anieri reminded the group that Yanukovych is a "twice-convicted criminal" and that a pro-Russian candidate with a less-onerous record might have defeated Yushchenko fair and square.
"It would have been very close," D'Anieri said.
Erik Herron, director of the Center for Russian and East European Studies, disputed recent reports that if the election results were thrown out, Ukrainian law would prohibit Yushchenko and Yanukovych from running.
"I don't see any evidence of that in the law or in the constitution," Herron said. "It may be a negotiating point in efforts to pass special legislation setting up another election, but by law it does not have to happen."
Regardless of the outcome, Lyubomyr Skochylyas, also a visiting scholar from Lviv National University, said Yushchenko's name has "become synonymous with freedom, democracy and a good life."
Lviv National University has an exchange agreement with KU.
Copyright 2018 The Lawrence Journal-World. All rights reserved. This material may not be published, broadcast, rewritten or redistributed. We strive to uphold our values for every story published.