\ROTC students at Kansas University participate in special training that will help them once they graduate. Each of the three services have special activities cadets can participate in while in school.
The official Army ROTC varsity sports event is called the Ranger Challenge Competition, which is offered every fall in Des Moines, Iowa. Six cadets compete on a school's team in a variety of vigorous military activities such as building a rope bridge or doing land navigation.
The KU Army ROTC program is host to an unofficial competition called the Best Ranger Buddy Competition the last weekend of April. Instead of teams of six, the KU version has teams of two.
The Buddy Competition has become more popular than the official competition, with more than 300 competitors from 27 schools participating last year, KU Lt. Col. Brian DeToy said.
"It's just huge and it gets bigger every year," DeToy said. "Cadets look forward to it like no other."
John Gassman, Riley senior, said the Buddy Challenge was a great way to get to know cadets from other ROTC programs.
"It brings cadets in from all over our region and their goal is the same as ours, which is to commission," Gassman said. "It's good to see that same level of professionalism is not just a few people at your single school."
The Air Force ROTC teaches students about the Air Force by going on base visits and doing orientation flights.
Air Force Capt. Robb Johnson said students participate in survival, evasion, resistance and escape training at Clinton Lake.
"They have everything a downed pilot would have," Johnson said.
The summer between their freshman and sophomore years, Naval ROTC students go out and spend a week with an aviation squadron, the Marines, the submarine force and the surface fleet. This monthlong exposure helps them decide what area of the Navy they will go out with when they graduate.
"It's our version of summer school," Cmdr. Christopher Orwoll said.
The following summers until graduation students go out on cruises and actually go on active duty for a period of time, Orwoll said.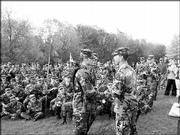 Copyright 2018 The Lawrence Journal-World. All rights reserved. This material may not be published, broadcast, rewritten or redistributed. We strive to uphold our values for every story published.