Kansas University faculty was a more tight-knit community when Richard De George was hired in 1959.
"For a couple of years, I knew almost all the faculty," he said. "Now that's impossible. It's hard to know people outside your department."
De George, a philosophy professor, has seen the university grow from about 10,000 students to more than 25,000. He was one of three KU employees honored for 45 years of service during the annual employee recognition ceremony Wednesday at the Kansas Union Ballroom.
The others were James Helyar, graphics curator at the Spencer Research Library, and Charles Himmelberg, math professor.
De George came to KU fresh out of Yale University, where he received his doctorate. A friend recommended he apply at KU.
"I thought I'd come for a few years and move on, but I liked it well enough to stay," he said.
He said he'd seen an evolution in the courses that KU's philosophy department offered.
"We've gotten into areas like business and computer ethics," he said. "People didn't even know what those things were when I first arrived."
De George said he'd also noticed that students now had less time for activism and attending evening lectures, opting instead to have off-campus jobs.
Helyar, the librarian, said he'd also seen a lot of change during his time at KU.
He started at KU in 1955 and left briefly before returning. He had worked at a library in London before coming to Lawrence.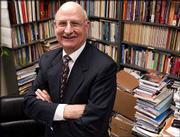 He's seen the transformation of the KU libraries to the digital age.
"You think of all the technological changes, and we've spent such a short time, really, of using computers, and yet everything we do is so changed and so enhanced," he said.
He noted, though, that the technology had its drawbacks, such as libraries not having access to in-process manuscripts. Instead, they get only the finished product.
He listed the demolition of old Fraser Hall and the addition of the Lied Center and Spencer Museum of Art among the highlights of his time at KU. He also has grown to appreciate the local scenery.
"This corner of Kansas up here is very pleasant," he said. "There's a very delicate beauty to it."
Himmelberg could not be reached this week for comment.
Two Kansas University workers were recognized as employees of the year during the university's annual employee recognition ceremony Wednesday at the Kansas Union Ballroom. Unclassified employee of the year is Ngondi Kamatuka, director of educational opportunity programs for the School of Education. Classified employee of the year is Georgia Hunter, custodial specialist. Kamatuka oversees federally funded projects that provide opportunities for economically and educationally disadvantaged people. He has been at KU since 1981, when he entered as a graduate student. He has worked at KU since 1987. Hunter is the sole custodian for Stauffer-Flint Hall. She has worked at KU since 1985.
Copyright 2018 The Lawrence Journal-World. All rights reserved. This material may not be published, broadcast, rewritten or redistributed. We strive to uphold our values for every story published.