The driver of a houseboat involved in a deadly wreck last summer at Perry Lake -- and heirs of a woman killed in the collision -- are suing the man they claim caused the wreck while driving his motorboat under the influence of alcohol.
But the motorboat's driver, Andrew L. Petesch of Meriden, claims he's not at fault, in part because he says the houseboat's driver failed to get out of the way.
The Aug. 8, 2003, wreck killed houseboat passenger Jane A. Marschand, 57, Mission, and injured houseboat driver Roger L. Jeffers and another passenger. Marschand's brothers, James E. DeYoung and Christopher DeYoung, filed a wrongful death lawsuit in Jefferson County District Court seeking compensation for an unspecified amount of medical and funeral expenses, bereavement, and the "significant conscious pain and suffering" they say she suffered before she died.
The wreck happened about 9:49 p.m., but the first rescue boat didn't reach the scene until 10:27 p.m.
Jeffers is suing Petesch in Jefferson County for $5 million in damages including mental anguish, head and face injuries, and loss of wages from his job as a salesman at Nebraska Furniture Mart in Kansas City, Kan. James Wisler, a Lawrence attorney representing Jeffers, said the evidence showed Petesch was speeding away from the marina with his boat on end and couldn't see in front of him when the wreck happened.
In essence, Wisler said, the motorboat hit Jeffers in the face.
"He was at the wheel, and he was seated, and the speedboat came up right and ramped onto the houseboat and pinned him on the floor in his chair," Wisler said.
No criminal charges have been filed in the case, but Jefferson County Atty. Jim Vanderbilt said he was still considering whether to file any. Vanderbilt said he couldn't comment about facts of the case.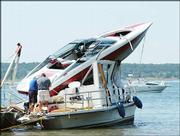 Jeffers, of Oskaloosa, alleges that Petesch caused the wreck by one or more of a list of five factors, including failure to drive at a safe speed and being under the influence of alcohol. An attorney representing Marschand's survivors said "there is a lot of evidence" that Petesch was using alcohol.
"The evidence is pretty clear that the Petesch boat was operating imprudently," attorney Thomas Ruzicka, of Olathe, said.
Petesch, however, denies any fault. His attorney wrote in a response to Jeffers' lawsuit that Jeffers caused the wreck "in whole or in part" by factors including failure to maintain proper boat lighting and "failure to stop, reverse or turn his vehicle aside to avoid collision."
Patrick Salisbury, a Topeka-based attorney representing Petesch, declined comment.
Petesch's response also alleges Jeffers was under the influence of alcohol, but attorney Wisler said the evidence will show that's not true.
A judge has set a series of deadlines to help the case proceed in a timely manner. For example, all medical exams must be finished by July 15, and discovery must be finished by Sept. 15.
Copyright 2018 The Lawrence Journal-World. All rights reserved. This material may not be published, broadcast, rewritten or redistributed. We strive to uphold our values for every story published.