Kansas University officials Monday will announce the largest research grant in university history.
The grant -- $17 million from the National Science Foundation -- will create an engineering center that will seek more environmentally friendly ways to speed chemical reactions, sources said.
When combined with institutional support from KU, the University of Iowa, Washington University in St. Louis and industry partners, the project will total $30 million during the next five years.
"This is a major, major thing to happen for KU and for Kansas," said Jim Roberts, interim vice provost for research. "This is what top-tier universities do -- they win these things."
There are about 20 NSF-funded engineering centers active in the United States.
KU officials have scheduled a news conference to announce the grant at 2:30 p.m. Monday at the Life Science Research Laboratories at 15th Street and Wakarusa Drive. The former Oread Laboratories will be home to the newly funded Center for Environmentally Beneficial Catalysis.
Gov. Kathleen Sebelius, U.S. Rep. Dennis Moore, D-Kan., and U.S. Sen. Pat Roberts, R-Kan., are scheduled to attend.
The center will be directed by Bala Subramaniam, professor of chemical engineering.
Subramaniam declined to discuss specifics of the grant until Monday but said the center would continue research he and others had performed at KU for the past 10 years.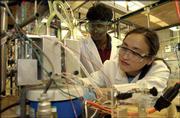 The research focuses on catalysts, which speed chemical reactions that help make products such as gasoline, medicine, clothing and food, including vegetable oil and margarine. Many catalysts are liquid acids that are environmentally harmful and produce carcinogenic or otherwise-dangerous byproducts.
But Subramaniam's team, which includes researchers in KU's chemistry department, has developed alternative methods using solid acids -- that aren't environmentally dangerous -- and dense-phase carbon dioxide, which is in a state that has both liquid and gaseous properties, to perform the same functions.
Subramaniam said industries spent about $10.5 billion annually on waste disposal and cleanup. His team already has worked with DuPont, Monsanto and others, and still more are interested in the work.
"Clearly these costs cut into the profits and erode the competitiveness of the industry," he said. "What we aspire to do at the center is to develop and invent new catalysts to produce new ways of making desired products, that minimize waste and prevent pollution."
A key, he said, will be to make the new systems economically viable for companies.
Stuart Bell, dean of the engineering school, said the grant would catapult KU's reputation among research universities.
"The research that Bala's involved in will be a key focus for the school of engineering, and it's important to the school that his programs continue to develop," Bell said. "It's just a great opportunity for Kansas. It's a major step forward for the school of engineering and KU."
Copyright 2018 The Lawrence Journal-World. All rights reserved. This material may not be published, broadcast, rewritten or redistributed. We strive to uphold our values for every story published.