Tonganoxie — Skeeter Kingsolver looks just like the grown-up cowboys, only smaller.
It's rodeo night at the Leavenworth County Fair, and the setting sun is casting long shadows of bulls, horses, steers, calves and cowboys gathered in the bucking chutes. At 5-foot-1 and 100 pounds, Skeeter is a miniature version of the older cowboys waiting their turns to ride.
Bright blue Levi's. Multicolored, long-sleeved shirt. White straw hat. Sweat dotting his forehead. No chaw lodged between his lower teeth and gum, but he spits often to complete the illusion.
On most summer nights, Skeeter is crisscrossing Missouri and Kansas, riding miniature bulls and steers in his age division -- 10 to 13 years old -- with two junior rodeo groups.
He's ranked second in the Missouri-Kansas Youth Rodeo Assn. for steers, and fifth in the Missouri Junior Bull Riders.
But tonight, Skeeter is just here for exhibition. Most people have never seen a kid on a 1,000-pound steer.
Soon, the sunlight will give way to arena lights over the rodeo grounds, the afternoon heat will calm, and hooves will pound the dirt.
Skeeter throws his rodeo bag down, sits on a wooden ledge and looks toward the grandstand, which is about half full.
"It just makes me feel good to go to a rodeo," he says.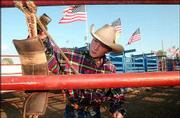 ¢¢

Skeeter was named after a horse.
His father -- Randy Kingsolver, a carpenter -- gave him the nickname when he was a tot. Now, Skeeter cringes when people call him by his given name, Keith.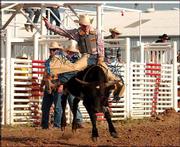 "When I was younger, I had a horse named Skeeter, and he was a little horse," Randy explained.
"When he was young," he said, motioning to his son, "he was always real little, so the name stuck."
Skeeter always had a passing interest in rodeos. He raised pigs, sheep and steers through 4-H at his family's 80-acre farm near McLouth.
Once, he and his older brother, Blake, had a sheep they liked to ride in its pen.
"They made it so mean you couldn't even walk in the pen," Randy Kingsolver said.
It wasn't until about two years ago that the rodeo bug bit Skeeter for real. He was at Jeffries Farm & Home in Bonner Springs when he saw a flier advertising a rodeo school near De Soto.
He decided to give it a shot.
¢¢

As young women on cantankerous horses trot around the arena to present the colors, Skeeter is swapping his work boots for his riding boots, the ones with silver spurs jutting from the heels.
He stands, removes his cap and uses it to cover his heart as two women sing the national anthem with a country twang. Then he bows his head as the announcer prays for the cowboys and "this great country of ours."
Praying finished, he starts unpacking his bag as the grown-up cowboys start the first event of the night, the bareback riding.
Some are local cowboys riding on a lark. Others ride a Midwestern circuit to garner points, hoping to catapult themselves to Professional Bull Riders events or Professional Rodeo Cowboys Assn. events.
Skeeter has those dreams, too.
¢¢

The problem with riding bulls is there isn't a great way to practice without jumping on a 1,200-pound, snorting animal that has one goal -- to get you off its back.
Skeeter's 15-year-old brother, Blake -- who has appointed himself Skeeter's manager and trainer -- has developed a training program for Skeeter that includes:
l Riding bareback through the Jefferson County countryside to hone his balance.
l Sitting on a plastic barrel suspended by rope among four trees while Blake tries to knock him off by flailing the ropes.
l Watching videos of himself and other cowboys riding bulls.
l Riding one of the family's two steers about twice a week in a practice arena of rusty iron his father constructed last year.
"We were going to get a mechanical bull, but that's expensive -- like $4,000," Blake said.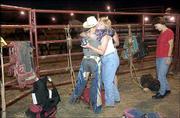 Despite the physical training, Skeeter said he's convinced most of bull-riding is mental toughness.
"You've got to have your mind in it to be really good," he said. "You think you're going to ride every time. You've got to be strong. You can't be scared."
¢¢

Team roping is under way in the arena. Skeeter has his riding rope draped over the side panel of the bull pen, applying coat upon coat of rosin with a wire brush to give himself a better grip.
Nearby, a shirtless, tattooed cowboy pauses from doing the same thing to stretch his legs. He dips to eye level with the black bull he's drawn for the evening, makes eye contact through the pen and mutters a few antagonistic words.
Satisfied with the grip of his rope, Skeeter takes off his hat, drops to one knee and prays.
¢¢

Sue Kingsolver is a rodeo mom. It would be easier to be a soccer mom.
"It's nerve-racking," she said. "You hold your breath. Good thing it's only eight seconds long so you don't turn blue and pass out."
She's usually arena-side during Skeeter's rodeos, videotaping his rides.
She was there in June in the north-central Kansas town of Lebanon, when Skeeter rode a bull named T-Bone. When Skeeter dismounted, T-Bone turned on him and slammed his head into the young cowboy's chest.
Though he wears a protective vest, Skeeter's collar bone snapped, and he got a concussion. He spent the night in the hospital.
"You don't think I wanted to take my Derringer (pistol) and blow that bull away," Sue Kingsolver said.
Skeeter's had two other concussions and countless bruises, scrapes and cuts.
"And I've only been riding for a couple years," he said. "You're gonna get hurt no matter what if you do this."
¢¢

The team roping is over, and a rodeo worker tells Skeeter it's time.
The black steer is loaded into the bucking chute. Skeeter hops on the fence near the gate, then settles down on the animal.
He wraps his riding rope around his hand, securing it for the ride.
"Boy, do we have a treat for you tonight," the announcer says. "We have a 13-year-old cowboy, Skeeter Kingsolver from McLouth, Kansas, here to ride a steer for you here tonight."
Satisfied with his grip, Skeeter bobs his head and another cowboy rips open the gate.
¢¢

Riding the rodeo will get tougher for Skeeter next year. He'll be in a new age division, riding miniature bulls that range from 1,000 to 1,500 pounds.
He's still small for his age, but he's catching up in size.
"This keeps him out of a lot of trouble," said Fred "Bubba" Reynolds, a friend and former cowboy. "He's perfect sized for what he's doing right now. When he goes to bulls, I think he'll do all right if he gets a little bigger."
He's planning to hit the weights to prepare for that.
Skeeter has won two belt buckles, a jacket and a watch during his brief rodeo career. His biggest payout was $150 riding a steer in Humansville, Mo.
He's hoping to hit the big-time in November during the National Junior Bull Riders finals in Shawnee, Okla.
In addition to rodeo, Skeeter is a running back for the football team at McLouth Middle School, a guard for the school's basketball team and pitcher for his summer baseball team. He tries to balance his rodeo training with school work.
"But rodeo's my No. 1 priority," he said.
Then, with a sheepish grin, he added: "That's not what my mom says."
¢¢

The steer bolts from the gate, half running and half bucking. It kicks up dust as it makes a right turn, heading toward the grandstand.
The crowd -- eagerly awaiting the next event, the children's "chicken chase" -- cheers on the young cowboy.
Skeeter leans forward and back to keep up with the bucking, his right hand flailing as he tries to stay on for eight seconds. His legs are too long for the small steer, and he struggles to get his boots high enough to spur the animal.
The buzzer sounds, he loosens his grip and jumps from the steer. He's "covered" another ride.
The crowd cheers, and a few of the locals who know him holler out his name.
Skeeter looks at the bleachers with a cock-eyed grin.
He tips his hat.
Copyright 2018 The Lawrence Journal-World. All rights reserved. This material may not be published, broadcast, rewritten or redistributed. We strive to uphold our values for every story published.