Overbrook — Kenneth Krause, the 78-year-old owner and operator of Fieldstone Farm near Overbrook, has hundreds of apple trees in his U-Pick orchard.
"I sell entertainment," Krause says.
During harvest, parents and children scurry around the orchard each weekend, enjoying the outdoors and picking ripe apples.
In other seasons, he has asparagus to harvest and pecans, and there are animals to pet, and fish to catch in one of the ponds.
Along with his bed and breakfast in a turn-of-the century stone barn, Krause has developed on his 140 acres an example of what Kansas officials see as a possible economic engine in a state looking for a new drive: agricultural tourism.
"Agri-tourism is an enormous untapped potential for the state of Kansas," said state Sen. Derek Schmidt, R-Independence, chairman of the Senate Agriculture Committee.
From hunting to hay rides, corn mazes to barn dances and roadside fruit and vegetable stands, the Kansas countryside is opening up to tourists who want to have an authentic taste of rural life, officials say.
And with nearly countless possible activities in this area of tourism -- and so much room to grow -- Kansas officials are trying to catch up.
"There are so many potential players in this game," said Scott Allegrucci, state director of travel and tourism. "What we are trying to do is get everyone to the table together. We have great product potential, but we have to get it to market."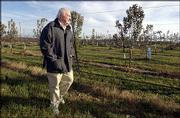 As more people move to cities and towns, they yearn for a vacation experience that will show them what life is like on farms and ranches, officials say. They call it the "City Slickers" syndrome.
The diversity in entertainment can be seen in an operation in Douglas County, where Rob and Beverly Phillips run Free State Farm, RP Bar Ranch and the Victorian Veranda Country Inn. The enterprise offers chuckwagon dinners, horse riding -- even cattle drives in the summer with Texas Longhorn cattle.
The Phillips also operate a day camp where children learn to feed and care for farm animals.
Such tourism won't rival the big crowds that flock to attractions like Disneyland or Six Flags.
And Schmidt said Kansas would never "draw the sort of folks who want to throw on their Gucci loafers and have a comfortable sip of latte while watching Mickey Mouse from the comfort of an air-conditioned train."
But he said Kansas should become a top tourist destination for those "who want to invest a little bit of time, maybe just a touch of sweat equity, to do something that's a little bit different, that's a little bit more authentic, that's a little bit more real."
In fact, Allegrucci said he had received calls from people interested in following the Kansas wheat harvest in its annual south-to-north crusade.
"There is a lot of innovation that is possible," he said.
But officials also say they don't want to oversell agri-tourism as a "silver bullet" to farmers who want to supplement their income.
To Krause, though, tourism is just a different way to work the land.
"If I was to set this up as a cow-calf operation, I couldn't make a living, and I doubt if I could make a living just selling fruit. You have to come up with ways to do things differently," Krause said.
Copyright 2018 The Lawrence Journal-World. All rights reserved. This material may not be published, broadcast, rewritten or redistributed. We strive to uphold our values for every story published.