Prasad Gogineni was supposed to lead an expedition of Kansas University researchers later this month in Greenland to help test a set of ice-measuring radar he pioneered.
Instead, during a physical exam required by the National Science Foundation before the trip, doctors discovered one of the arteries leading to his heart was completely blocked. He had bypass surgery last month.
There was a time when Gogineni's surgery might have led KU to cancel the trip. But with about 30 students and staff members and seven faculty now involved with the radar program he's developed, the trip, which targets effects of global warming, will go on as scheduled.
"Now it's being passed on to them," Gogineni said. "The young group is coming in behind me."
The latest research stems from a five-year, $8.7 million grant from the National Science Foundation and NASA. KU is leading a group of 11 institutions from six countries participating in the program, which began in October 2001.
The project aims to determine whether melting of polar ice caps is part of a long-term climate change -- commonly dubbed global warming -- or part of natural fluctuations in climate over time.
The melting has caused sea levels to rise about 15 centimeters during the past 100 years, and scientists say climate changes likely will accelerate the process. The rising sea levels could threaten cities along coastal areas, where an estimated 60 percent of the world's population lives.
New system
KU researchers have developed prototype radar systems that send signals from the surface of ice sheets down to bedrock. The signals that bounce back tell scientists about the climate changes the area has experienced during thousands of years, which will help them predict future climate changes and melting.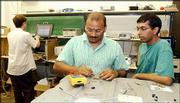 The signals also will tell researchers the condition of the ice at the bedrock -- whether it's frozen or melted -- which is a primary factor controlling ice sheets.
"You can't prevent (global warming), but once you have all the information you can predict and tell the impact of sea-level rise," Gogineni said.
But before the equipment gathers data, it must be calibrated. The trip by 12 scientists from June 23 to July 19 is the first time the radar will be tested in the field. Further tests are planned in Greenland and Antarctica through 2006.
After that, another grant could be awarded to actually gather the data needed to predict ice-sheet melting.
Pannirselvam Kanagaratnam, an associate research professor and former doctoral student at KU, has been on similar tests in the past at the North Greenland Icecore Project, a Danish research camp in central Greenland.
Average temperatures range from lows of minus 4 to highs of 23 this time of year. Researchers sleep in tents, with heaters to keep the temperature around freezing.
"It doesn't get dark there," Kanagaratnam said. "We have blinds in our tent so we can sleep."
Long history
The ice cap research is the latest outgrowth of radar research at KU.
In the 1960s, Richard K. Moore, a professor of electrical engineering and computer science, worked on radar that looked for ice in the sea. That project eventually lost Navy funding in the 1980s, in part because of the downfall of the Soviet Union. The research helped the Navy's submarines navigate icy waters.
Gogineni, a native of India, worked on that project as a doctoral student in the early 1980s. He eventually transitioned the sea ice research into projects on the polar ice caps, at first from the ground and later from radar based in airplanes.
"There is a long history of doing radar research here," said David Braaten, professor of physics and astronomy who's going on the Greenland trip. "This is the current reincarnation."
Julie Palais, the Antarctic glaciology project manager for the NSF, said Gogineni had helped make KU a world leader in ice cap work.
"He is one of the leading researchers in this field," she said. "Everyone looks to him when it comes to radar and remote sensing."
Palais said the KU team was working on a scientific problem that has real-world consequences.
"People living on the beach in North Carolina, or people who want to retire to Florida, can understand what happens if the sea level rises," she said. "We're excited about the project."
Palais said her office would be eagerly anticipating the results of the equipment testing.
Gogineni, 52, won't be going on this trip. But he said he's confident his team will make it a successful expedition.
He called the physical and bypass surgery a "blessing in disguise," considering his health would have been at risk lugging equipment in high altitude in the cold.
Braaten said he could tell it was difficult for Gogineni not to be part of the expedition.
"He's a very hands-on person," Braaten said. "But this probably saved his life."
Copyright 2017 The Lawrence Journal-World. All rights reserved. This material may not be published, broadcast, rewritten or redistributed. We strive to uphold our values for every story published.