KANSAS CITY, KAN. — Many people think medical students have little time for anything but attending classes and studying.
But Jennifer Scott Koontz, a third-year student at Kansas University Medical Center, gave up what little free time she had to organize and find funding for a free health clinic that will be run by students.
It's set to open in mid-August.
"It was something that was very doable," Koontz said. "There are lots of medical schools who have student-run clinics."
She dove into the project after discussing the idea last September with one of her advisers at the Med Center.
After receiving about 100 responses to an e-mail asking fellow students for help, Koontz and her colleagues began to create a plan for the clinic.
They named their project the JayDoc Free Clinic. It will offer basic medical care to the uninsured and the underinsured. It will be run by second- and third-year medical students and eight undergraduate volunteers overseen by volunteer physicians.
The clinic will be open from 6 p.m. to 10 p.m. Wednesdays beginning Aug. 13 in the Southwest Boulevard Family Health Clinic in Kansas City, Kan.
"We talked to some local clinics and found out that the evening was one area that was really lacking in hours," said Sara Blake, community service director and third-year student. "It fits better with our schedules being students anyway, so it worked out really well."
With the help of Dr. Sharon Lee at the Southwest Boulevard clinic, JayDoc secured space and equipment there.
The clinic will have facilities for functions such as blood, STD and pregnancy testing, but other procedures, such as X-rays, will not be available.
In Wyandotte County, 17 percent of the population lives below the poverty level, compared with a state average of 11 percent, Koontz said. That means there are plenty of poor people nearby in need of medical care.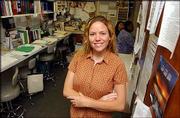 The six other county clinics "had waiting lists for patients to get in, and they definitely do as much as they can, but there are still people who need care," Koontz said.
Once the students had a plan and a six-person executive board, they needed money to run the clinic.
They found the bulk of that money in a "Caring for Community" grant from the Association of American Medical Colleges and Pfizer Medical Humanities Initiative. Each year since 2000, the association has awarded grants to eight medical schools nationally.
Koontz, along with Phong Hu, research director and a third-year student, heard about the grant and completed the application process. It was approved in late May.
"It's nice to have the AAMC thinking that your idea is such a great idea because they're so well respected," Koontz said.
The clinic will receive a new project grant of $12,000 for the first year. The money continues for four years, decreasing 25 percent each year, for a total of about $30,000. The students received smaller grants from two other organizations.
"We didn't expect to have this much money to work with," Blake said. "We were really surprised with the amount of funding and support that we got from them."
Koontz, who has a master's degree in public health, said despite the hectic schedules of medical students, many came to med school wanting to help out in the community.
"I think there are certain people who need to do more than just study to keep them going, and people who have a real passion for helping the community," Koontz said. "It's a really good way to keep well-grounded and do things for other people. That's what keeps me going, at least."
---
-- Caroline Boyer is a Lawrence journalist.
Copyright 2018 The Lawrence Journal-World. All rights reserved. This material may not be published, broadcast, rewritten or redistributed. We strive to uphold our values for every story published.