Waco, Texas — Police recovered the remains of a badly decomposed body Saturday in a rock quarry where authorities believe missing Baylor University basketball player Patrick Dennehy was left for dead more than a month ago.
The grim discovery came as Dennehy's family was making the long trip back to their Nevada home after spending nearly a week in Waco in search of clues to help them understand what happened to the 21-year-old athlete.
They got as far as Albuquerque, N.M., where they were to drop off Dennehy's girlfriend, Jessica De La Rosa, when police began leaving urgent messages on their cell phones that a break in the case -- although a sad one -- finally had come.
The body had not been identified by Saturday night, but a police source said it was strongly believed to be that of the 6-foot-10, 230-pound athlete. Dennehy was last seen alive June 12 after attending classes at Baylor, a Baptist-affiliated school with about 14,000 students. The source asked not to be identified because of the sensitive nature of the investigation.
Family members said they believed police were led to the scene by information provided by Carlton Dotson, 21, a former teammate and roommate of Dennehy's who is now being held without bail in a Maryland jail, charged with murdering Dennehy.
Friday's discovery capped a bizarre series of events that started June 12 when Dennehy vanished after attending a class. His family reported him missing June 19, and his Chevy Tahoe, missing its license plates, was found in a Virginia Beach, Va., parking lot June 25.
Dotson, 21, was arrested Monday in Chestertown, Md., after reportedly confessing to FBI agents that he shot Dennehy while both men were shooting guns. Friends and relatives have said the two men bought guns to protect themselves after they were threatened by a teammate.
Friends of Dennehy say he told them he and Dotson had been threatened, and that the pair obtained guns. Dennehy's family also said he told coaches he feared for his life.
Baylor basketball coach Dave Bliss has repeatedly said he and his staff were not aware of any threats.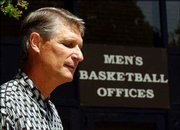 Waco Police said Dotson told FBI agents in Maryland he shot Dennehy after the player tried to shoot him. But after his arrest, Dotson told The Associated Press he "didn't confess to anything."
Dotson gave police three locations in Waco where Dennehy's body might be found, Dennehy's family said. The body was found in one of those locations.
The remains were found shortly before 8 p.m. Friday by a lawman, but they were not immediately collected because of the fading light, McLennan County Sheriff Larry Lynch said.
"This morning, at first light, we began a thorough collection of all evidence and (an) examination of the area where the badly decomposed body was found," Lynch said Saturday.
The body was taken to the Dallas County Medical Examiner's Office for identification, a task that is expected to take some time.
"We all share the family's agony over these past several of weeks and the horror his friend has been charged with murder," Baylor athletic director Tom Stanton said Saturday.
Dennehy's stepfather, Brian Brabazon, and De La Rosa each confirmed they spoke Saturday with the sheriff. Brabazon said authorities did not give him a description of the body or where it was found, but De La Rosa said the sheriff told her the body was found in water.
"Of course, it hurts to hear the news that they found the body," Brabazon said from Albuquerque. "But we're a strong family and we're here for each other."
He said the family, including Dennehy's mother, Valorie Brabazon, and 15-year-old sister, Wyn, will wait for formal identification of the body before deciding whether to continue on to Nevada or return to Waco.
"We want to be by ourselves until we know for sure," Brian Brabazon said.
De La Rosa said she was not giving up hope, though she realized there was little chance that the body was that of someone else. "I want to think and hope it's not him," De La Rosa said. "I've got a pair of shoes over here that I hope he can wear again."
But, De La Rosa said tearfully, "The chances that its not him are very unlikely."
Dotson has an extradition hearing scheduled Aug. 19.
Copyright 2018 The Lawrence Journal-World. All rights reserved. This material may not be published, broadcast, rewritten or redistributed. We strive to uphold our values for every story published.