The disappearance of famed Kansas aviator Amelia Earhart remains one of the most enduring mysteries of modern times.
But a former Kansas farm boy, now an engineer, says he knows what happened to Earhart. He just has to prove it.
And today, the 106th anniversary of Earhart's birth, the focus of the investigations and theories about her demise returns to northeast Kansas with a program at the Kansas History Center in Topeka, and the annual Amelia Earhart Festival on Friday and Saturday in Atchison.
"She was a pioneer in many things, not just aviation," said Rod Blocksome, who has been on a "quest" to find out what happened to Earhart when her plane disappeared July 2, 1937, while on a flight to circle the globe.
Blocksome is part of a team of engineers and scientists at Rockwell Collins, a Cedar Rapids, Iowa,-based manufacturer of communications and avionics equipment, that has been searching for Earhart's plane.
Apart from the mysterious nature of Earhart's disappearance on a record-setting flight, the continuing interest in her may be due to her status at the time as a role model for women to get out of traditional roles and careers. "You talk to any woman today who was of high school age in the 1930s, and Earhart was their hero," Blocksome said. "She was a charismatic woman."
Born in Atchison in 1897, Earhart started her flying career in 1921.
She became an international celebrity in 1932 when she was the first woman -- and second person -- to fly solo across the Atlantic Ocean, five years after Charles Lindbergh. Three years later, she became the first person to fly solo across the Pacific Ocean.
In June 1937, she and navigator Fred Noonan set out to take her plane, a twin-engine Lockheed Electra, on a trip around the world. They completed 22,000 miles of their journey; the remaining 7,000 would be over the Pacific Ocean.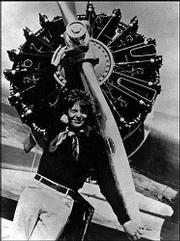 On July 2, they planned to fly from New Guinea to a tiny piece of land called Howland Island, a 2,500-mile trip. Their last radio contact was with a U.S. Coast Guard cutter, the Itasca, which was near Howland. The island, about 1.5 miles by three-quarters of a mile, was a challenging target for an aviator in those days.
"I think she ran out of gas looking for Howland Island and had to ditch the plane in the ocean," said Blocksome, who grew up in western Kansas and received his degree from Kansas State University.
After the crash, he said, "It's just speculation whether they survived the ditching and got out of the plane.
"They carried a life raft, and the plane could have floated for an hour or two. They perished on the ocean or they could have been injured and gone down with the plane."
Blocksome hopes the answers lie with the Electra on the ocean floor, and he and his group at Rockwell have volunteered to work with Nauticos LLC, a deep ocean exploration and salvage company, to find the aircraft.
That last radio communication between Earhart and the Itasca provided the investigators with a big clue.
Radio communications -- or poor radio communications -- may well have played a significant part in the failure of Earhart's mission. Ironically, it may be the analysis of radio signal strengths and frequency propagation conditions for the fateful day that provide essential clues to establishing the location of Earhart's plane at various times during the flight, including the most likely area where the plane went down.
Blocksome analyzed radio signals between Earhart's aircraft and the Itasca, judging how strong the signal was, the log notes of the Coast Guard's radio officer and frequency of contact. He and his team created a computerized model of the aircraft and the communication devices used, such as antennas.
"You combine that with other analyses," he said. "It's like putting together a big puzzle and you don't have all the pieces."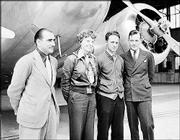 In 2002, Blocksome's group went on a seven-week search expedition at sea, scanning the ocean floor with a sonar "sled" that basically gave scientists a picture of the ocean's floor. But the expedition had equipment problems and ran out of money, he said.
"The technology is there. The question is time and money. It's an awfully big ocean and an awfully small plane," Blocksome said.
Another attempt to find Earhart's plane is scheduled for next year.
He said the radio logs indicate that at one point Earhart was close to the Coast Guard cutter.
"You see the irony of the whole thing," Blocksome said. "If they continued on course, they probably would have seen the cutter and the whole outcome would have been different. The chief radio officer had said that one signal was so loud he expected to see the plane in the sky. But he didn't."
Copyright 2018 The Lawrence Journal-World. All rights reserved. This material may not be published, broadcast, rewritten or redistributed. We strive to uphold our values for every story published.