The publisher of The New York Times said the paper's editorial board wasn't sure whether the United States should attack Iraq. But the board believes U.S. leaders should first earn broad-based support from other nations for an attack.
"We really haven't made up our minds," Arthur Sulzberger Jr. said of a potential attack. "What we have made up our minds about is unilateralism vs. multilateralism. We are fully for multilateralism."
Sulzberger on Friday was at Kansas University to receive the William Allen White Foundation's national citation. He spoke to about 250 people Friday afternoon in Woodruff Auditorium at the Kansas Union and met with KU students, faculty and alumni.
"We can all agree Saddam Hussein is an evil man," Sulzberger said. "He's a bad man, as our president would say. There's a good chance the world would be a better place without him. What we don't know is what happens if we take him out."
Much of Sulzberger's speech was devoted to media issues. He criticized TV and talk radio analysts, who he said use a "trial-by-insult" format.
"They spend hours trying to vilify whoever they don't like at the moment," he said.
He said Internet news sites had helped make journalism a "global, 24/7 news battle," though he said the ethics of newspaper journalism should carry over to the Internet.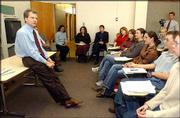 Sulzberger, 51, has been publisher of The New York Times since 1992. He became chairman of The New York Times Co. in 1997. His father, Arthur "Punch" Sulzberger, received the William Allen White citation in 1974.
Earlier in the day, Sulzberger spoke to reporting and editing students from the University Daily Kansan.
He sat on a classroom table as he fielded questions from students for an hour and a half, often lacing his responses with profanity and weaving in comments about his favorite hobby, rock-climbing.
Some of his comments:



Ron Sylvester of the Wichita Eagle received this year's Burton Marvin News Enterprise Award, given annually by the William Allen White Foundation.Sylvester received the honor for his coverage of the trials of Jonathan and Reginald Carr, who were convicted last year of killing five people in Wichita. The award was presented during a luncheon Friday.

On the Times' Sept. 11 terrorist attack coverage, which earned seven Pulitzer Prizes: "We covered the hell out of it. It was the biggest story of our generation. We knew that."
On how the Internet is like Speaker's Corner in London: "There's all these guys ranting on their soapboxes. How much knowledge is passed out on a given day? Almost none."
On the Times convincing its hard-line print journalists of the merits of the Internet: "We had a hell of a tussle. It was a culture change."
On Kansas State University, his wife's alma mater: "That's the team that's going to beat you tomorrow in basketball. I'm a journalist. I have to tell you the truth."







The journalism students said they were surprised how candid Sulzberger was, considering he's one of the most powerful people in the media.
"He brought it down to our level," said Todd Rapp, a Las Vegas senior. "He's in there cussing, and I'm like, 'He's a regular guy like me.'"
Erin Ohm, a Wichita junior, said she was impressed that Sulzberger spent time as a reporter before working up the ranks at the Times, though she suspected his family background helped him become publisher.
"The thing that impressed me most was his commitment to quality journalism," Ohm said. "He was a cub reporter at one point, and look at where he is now."
Copyright 2018 The Lawrence Journal-World. All rights reserved. This material may not be published, broadcast, rewritten or redistributed. We strive to uphold our values for every story published.