This victory was doubly sweet for Lawrence High's boys basketball team.
Not only was the Lions' 84-62 trouncing of Olathe East the best game they've played all season, it served a measure of revenge for the seven football players on the varsity roster.
The Hawks ended Lawrence's football season last fall, so LHS basketball coach Chris Davis used that as a motivational tool on Wednesday at Lawrence High.
"He said, 'Football players, stand up, remember what it felt like, remember who beat you,'" said LHS senior Brandon McAnderson, who rushed for 165 yards in that loss. "We wanted to come out and win."
It came in a big way as the Lions (7-8 overall, 3-4 Sunflower League) dominated Olathe East (10-5, 5-2). It was the most points scored against the Hawks all season, who entered the game second in the league standings and ranked ninth by the Kansas Basketball Coaches Assn.
Simply put, this was the Lions' best performance.
"Absolutely," Davis said. "It was the most complete game we've played from start to finish."
The Lions trailed early, but sophomore David Freeman knotted the game at 10 with a four-point play five minutes into the first quarter. Lawrence took the lead for good, 15-14, when junior Taylor Parker hit two free throws with 1:17 left in the quarter.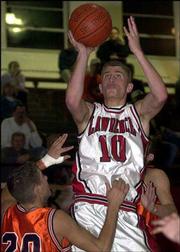 LHS outscored the Hawks 69-48 the rest of the game.
For a team that scored more than 69 points just once this season, the offensive outburst was incredible. Apparently, it had been building.
"I think we'd been practicing too hard for too long," Parker said. "We finally came out and played a full game. We just wanted to come out and upset somebody."
Parker was the catalyst, scoring a career-high 25 points and hitting 8 of 11 field-goal attempts and all six of his free throws. He tore through the Olathe East pressure defense and was fearless driving the lane -- all of which opened up his perimeter shooting.
Parker was 3-for-3 from beyond the three-point arc.
"I was really glad to see it," Davis said. "He shoots the ball really well, a lot of times he just doesn't get his shot off."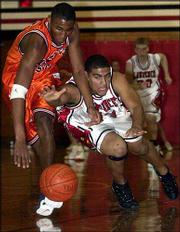 His ball handling was critical in the fourth quarter when LHS withstood an Olathe East rally. Down 56-33, the Hawks opened the quarter by hitting their first three shots and 8 of 9 free throws, and pressured the Lions relentlessly.
It didn't faze LHS, which hit its first four shots and nailed a couple of free throws, almost matching Olathe East point for point. LHS scored 28 points in the quarter -- 10 by Freeman.
The sophomore guard had 16 points on 4-for-4 shooting in just his third career start, impressing Davis.
"I think the JV's going to lose him," he said. "We kinda knew at the beginning of the season that he could see a little varsity time. I think he showed tonight what kind of player he can be."
The Lions have won two straight for the first time since the beginning of the season, and will try to make it three straight Tuesday when they travel to Kansas City Wyandotte.
The euphoria of Thursday's win will have settled by then, mostly because LHS now knows it can play when motivated.
"As good as it was, it was disappointing too. You show up and you beat a top-10 team and you know you can play like that all the time," McAnderson said.
"But it's good to know that you can play like that."
Copyright 2018 The Lawrence Journal-World. All rights reserved. This material may not be published, broadcast, rewritten or redistributed. We strive to uphold our values for every story published.