Welcome to Kansas University. The Journal-World's annual KU edition -- KU Today -- is your guide to the university.
The sections are:
Inside KU Today, you will find such features as what's hot on the hill, a list of Hawk Week events and the history of the Jayhawk.
Inside Faces to Know, you'll get a glimpse of Chancellor Robert Hemenway's outlook for the 2003-2004 school year and meet a Rhodes Scholar who is assisting in postwar relations in the Middle East.
Inside Spaces & Places, you'll learn about the sights on campus. The section features a campus map, a biking route map and several campus landmarks.
Inside Real Life, a KU student documents the highs and lows of 2002-2003.
Inside Style, you'll find the latest in campus fashion for men and women.
The Sports section examines the changing of the guard, with the addition of KU men's basketball coach Bill Self and athletic director Lew Perkins. The section also includes previews of all KU varsity programs.
KU Tomorrow looks at the Kansas University Endowment Association's impact on the university and the latest in research and technology.
Pulse, the E section, features the arts and entertainment scene in Lawrence. The section features local music, details the galleries opening downtown and provides a map of Lawrence's art, theater and music venues. It also includes a calendar.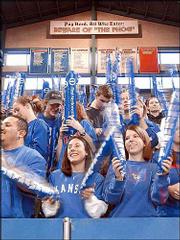 Copyright 2018 The Lawrence Journal-World. All rights reserved. This material may not be published, broadcast, rewritten or redistributed. We strive to uphold our values for every story published.