Lisa Pinamonti didn't graduate from Kansas University, but she can sell you on why KU is a good place to go to school.
Pinamonti, a native of Pittsburg who attended Pittsburg State University, was selected in May as director of the Office of Admissions and Scholarships.
"I'd say being a native Kansan helps because I have the perspective for what Kansas can offer you," she said. "You can stay in the state and get a good education."
Pinamonti, 31, has worked at KU since 1999, when she was assistant director of on-campus programming. She was promoted to associate director a year later. She earned a master's degree in higher education administration at KU in 1998.
Previously, she was an admissions counselor at PSU for three years and orientation coordinator at Wichita State University for one year.
Pinamonti said she was hooked on working with student recruitment when she started as a student ambassador at PSU.
"It's the opportunity to work with people," she said. "There's a lot of satisfaction about informing a prospective student not only what a university can offer them but also the importance of higher education overall."
Pinamonti, who served as interim director for a year after former director Alan Cerveny left in spring 2002, said she's spent the first few months on the job restructuring her staff. The office has a $2 million annual budget and 32 staff members.
She said she doesn't plan any major changes of the office, though she wants to build on projects already started, including multicultural recruiting and recruiting the top students from Kansas.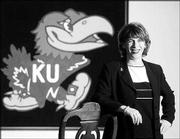 To recruit Kansas students, Pinamonti and her staff will tour Western Kansas this fall for a weeklong "road show."
"We hope we'll see a lot of people," she said. "We want all ages in high school as well as community college."
She'd like to cut the processing time for new student applications from the current four to six weeks to two to four weeks.
Kansas students who want to apply to more than one state school will be able to apply using a single application online starting for the fall 2004 semester. That system can be accessed by visiting www.admissions.ku.edu.
The application fee was increased from $25 to $30 to accommodate the new system.
Though her new job means more administrative tasks, Pinamonti said she still enjoys presenting information during prospective student visitation days.
"I'm fortunate here at KU that I still interact regularly with prospective students," she said. "That keeps me in touch with the students and the recruiters."
Copyright 2018 The Lawrence Journal-World. All rights reserved. This material may not be published, broadcast, rewritten or redistributed. We strive to uphold our values for every story published.