Smile -- someone may be watching you from afar on a television screen.
Especially if you happen to be attending a Kansas University football or basketball game.
Since the late 1970s officers with the KU Public Safety Department have been videotaping the crowds for security reasons at major events in Allen Fieldhouse and Memorial Stadium.
During the early years one officer and a camera handled the chore. Today, multiple cameras are used by police and the KU Athletic Corp.
"This is very typical of athletic venues," said Brad Nachtigal, director of facilities for KUAC. "In fact, we're probably behind everybody else."
Mike Lickert, KUAC video coordinator, agreed.
"I've been to a lot of Big 12 events and they are used everywhere," Lickert said. "Nebraska has several cameras at their football stadium."
At Memorial Stadium, two cameras are placed at each end of the press box at the ninth floor level. Police officers watch a monitor from a command center inside the press box. If they see a problem they can pan the cameras and zoom in or out on it.
At Allen Fieldhouse two cameras overlook the court and the seats. Another pair of cameras watch the corridors and entrance to the fieldhouse.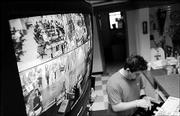 During basketball games and other events, KU police watch from a mobile command post. During normal daytime hours, Nachtigal can watch fieldhouse cameras on a screen in his office.
The University of Colorado began the taping process in the Big 12 because of problems it had with rowdies at football games, KU assistant public safety director John Mullens said. Colorado had been getting two or three officers injured a year at football games, he said, noting that alcohol was sold in the stadium.
"They found out that knowledge of video being taken stopped fights and it allowed them to document medical emergencies and other incidents," Mullens said.
The stadium cameras have also helped in other ways, Nachtigal said.
"They're not just for monitoring," he said. "We make a lot of other decisions up there, sometimes concerning the weather. We can dispatch Red Cross (to a medical problem)."
Monitoring cameras also are used in the Kansas Union and some other campus buildings where important computer or lab equipment can be found, Mullens said. At those locations the main purpose is not necessarily to have someone watching a television screen but to document thefts or shoplifting, Mullens and other KU officials said.
At the union, cameras cover the entrances, the Hawk Shop convenience store, Jaybowl bowling alley, bookstores and the computer lab.
If officials become aware of a problem or incident they can refer back to digital or taped recordings to see what happened.
"It's passive security," building services director Pat Beard said. "It gives us something to refer back to."
Cameras have only been at the bookstores a few months, Beard said. The only time he knew of any incidents being reviewed occurred after a clerk chased a shoplifter and the incident was recorded.
A television screen connected to various cameras at the Union entrances can be seen by customers at the Hawk Shop counter.
There have been only a few incidents in which recordings were held for possible court use, according to Mullens. All of the cases he knows of were resolved short of a trial, he said.
Nachtigal wished KUAC had more cameras that could be placed in other facilities, such as Wagnon Student Athletic Center and Parrot Athletic Complex.
No cameras are placed in office areas or near public restrooms. Signs at Allen Fieldhouse inform visitors that they are being monitored elsewhere.
Copyright 2018 The Lawrence Journal-World. All rights reserved. This material may not be published, broadcast, rewritten or redistributed. We strive to uphold our values for every story published.