HAYSVILLE — Two children died and their father was seriously injured Monday when their home south of Haysville caught fire, authorities said.
Fire officials haven't released the victims' names.
Sedgwick County Sheriff's deputies were the first to arrive at the fire after noon, but they were unable to enter the home because it was engulfed in flames. Firefighters who arrived minutes later pulled four people from the home, said Ron Reavis, a division chief for the Sedgwick County Fire Department.
Both of the children boys ages 1 and 3 were pronounced dead at the home. Their father was listed in serious condition at a Wichita hospital. Another victim refused medical treatment.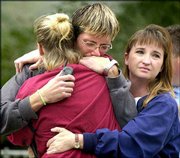 The children's mother was at work when the fire started, Reavis said.
The home was destroyed, he said, and the cause of the fire remained under investigation.
Copyright 2018 The Associated Press. All rights reserved. This material may not be published, broadcast, rewritten or redistributed. We strive to uphold our values for every story published.