Brandon McAnderson didn't shed any tears about Lawrence High's 11th-hour decision to move Friday night's district football game against Topeka High to Memorial Stadium.
"I love this turf," said McAnderson, a senior running back who ranks as one of the all-time leading rushers in LHS history.
McAnderson played only during the first half, but he scored four touchdowns as the Lions buried the outmanned Trojans, 55-0.
"This is where we hope to be in four weeks," McAnderson said, referring to the Class 6A state title game on Nov. 30 at KU's facility. "I may even be back next year to play on it. I love this field."
McAnderson has a scholarship offer, he said, from KU, but is also considering Iowa, Missouri and Kansas State.
McAnderson displayed his versatility to KU coach Mark Mangino, who was in the stands for Senior Night. Mangino's son, Tommy, is the Lions' quarterback.
First, McAnderson returned a punt 25 yards to set up the Lions' second touchdown. Then he capped a pair of drives with short TD runs. Next, while playing linebacker, the 6-foot, 210-pound senior picked off a pass and returned it 55 yards for another score.
Finally, McAnderson burst 49 yards for his fourth TD with 2:51 remaining before halftime. It was the last time McAnderson was on the field. Lawrence High coach Dirk Wedd utilized just his JV and sophomore players in the second half.
McAnderson finished with 139 yards on 13 carries and climbed into third place on the school's all-time single-season rushing list with 1,524 yards.
Quite likely, McAnderson wouldn't have had such a big night if the Lions had played as scheduled on the quagmire at Haskell Stadium. Then again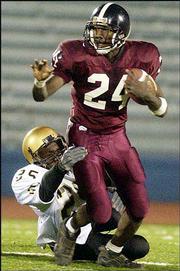 "With McAnderson," said teammate Brian Seymour, "I don't think the surface matters."
Lawrence High officials didn't decide to move the game until after a noon inspection of the natural turf at Haskell. They discovered it had turned to natural mud.
"Haskell called us and told us to come and look at it," Wedd said. "They had eight or 10 people working on it, and when they walked in the middle you couldn't see their feet."
So rather than risk serious injury to players on both teams, LHS officials called the KU athletic department.
"Haskell's our home field, but it was unsafe," Wedd said. "And on short notice KU and coach Mangino came through for us."
Kansas officials mobilized quickly.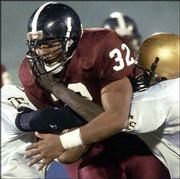 "We'll have some people who have to stay late and be here at 6 tomorrow morning," said Richard Konzem, KU's senior associate athletic director, "but we'd like for the city schools to play all their games here."
The only hitch was Kansas State had already moved its equipment for today's game against the Jayhawks into the visitors locker room, so Topeka High had to use the large hospitality tent in the south end zone.
Almost overlooked by McAnderson's yeoman performance was another spectacular outing by backfieldmate Chris Fulton.
The 6-foot, 180-pound senior speedster electrified the crowd with a 76-yard jaunt down the left sideline on the Lions' second play. Fulton finished with 137 yards on just seven carries and boosted his season total to 1,185 yards good enough to move him into the Top 10 on the Lions' single-season ground-gaining list.
Afterward, Lawrence High's players hoisted the district championship hardware.
"We got a small trophy today," Wedd said. "Somebody will get a big trophy in four weeks. It might as well be us."
Lawrence High, 7-2, will play host to a district game probably against Shawnee Mission North next Friday, either at Haskell Stadium or at Memorial Stadium.
Copyright 2018 The Lawrence Journal-World. All rights reserved. This material may not be published, broadcast, rewritten or redistributed. We strive to uphold our values for every story published.