Manhattan — As Lawrence High's soccer players sat encircled near midfield trying to console one another after their 1-0, season-ending loss to Manhattan Thursday evening in a Class 6A regional semifinal, the Lions couldn't block out MHS's postgame celebration going on nearby.
LHS players had to wonder why it was the Indians who were taking the giddy victory lap around the field as Cyndi Lauper's "Girls Just Wanna Have Fun" blared over Anneberg Park's speakers.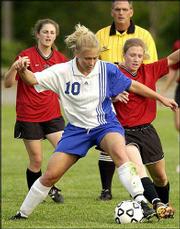 It wasn't because of a lack of effort on the Lions' part, as Lawrence coach Keith Nelson, whose 9-7-2 team had the best-ever record by a city team, so proudly told his girls afterward.
But that fact was already obvious to the 50 or so LHS fans in attendance, who saw their team stage a furious comeback bid in the final 61/2 minutes after MHS (14-2-2) scored off a point-blank deflection goal.
"I don't think there's a better way to go out than outplaying the No. 5 team in the state for much of the game," Nelson said. "But you're going to win some and lose some, but we think this is one of many regional games to come for this program."
Shortly after Manhattan's Bekah Duff booted in the loose ball in the box for what proved to be the game-winner, LHS nearly answered.
Aly Barland blasted a 40-yard shot that MHS goalie Meghan McCaffrey barely knocked down with outstretched arms. Senior Samantha Lopez was there for the rebound and seemed to tie the game when she tapped the ball into the goal. But a referee said an LHS player made contact with the goalie and waved off the score.
"It's hard to go home like this," said a dejected Lopez. "But we know that we really left it all on the field."
Both teams did. The game had more than its share of stoppages for overly aggressive play, but it was Nelson's group which was blanked 4-0 by the Indians earlier in the season that seemed to control the majority of the game.
"This game we came out like the team that I know," said senior defensive standout Bliss Lemmon. "The last game wasn't even a game we claimed as ours."
That surely was the case early on as each team had a couple of quick offensive strikes before getting locked in a defensive struggle.
LHS goalie Shannon Fisher, as has been the case all season, was solid and at times spectacular, saving a handful of strikes in the first half.
At the start of the second half, Manhattan had its best offensive charge of the game. Fisher had to dive to save one shot, and on another MHS opportunity knocked the ball away from a forward at the top of the box.
After another control battle, Manhattan finally broke through with a goal.
Sophomore Meghan Hungerford launched a looping free kick into the box that MHS senior Molly Lindquist drilled. But when her shot ricocheted off an LHS defender, it bounced right to Duff and she popped in a shot from the corner that Fisher deflected but had no real chance at.
"The ball kind of just bounced around in the box, and they got a foot on it and we didn't," Nelson said. "It was a two-yard shot that she (Fisher) never had a shot at. But that might have been our only mistake of the game."
If it wasn't, there weren't many. After the score, the Lions shifted to an all-out offensive attack, but after three close opportunities the clock finally expired on LHS's dream season.
Lopez, who led the Lions this season with 11 goals, knows that while a key part of this season's team is graduating, the foundation for future success was put in place.
"Wow, what can you say, we've blown people's minds this whole season," Lopez said. "And they're going to be just as good next season. I've never seen a team come together like we did. It's really awesome."
Lemmon emphatically agreed with her senior teammate and said the season was almost indescribable.
"This is the most fun I've had on a team and they're just a great group of girls that I'm going to miss," said Lemmon, trying to fight back tears.
Copyright 2018 The Lawrence Journal-World. All rights reserved. This material may not be published, broadcast, rewritten or redistributed. We strive to uphold our values for every story published.