When Gale Sayers stages his annual benefit golf tournament in Lawrence, he likes to have Bob Skahan in his foursome.
"I haven't been able to play in all of them," said Skahan, "but this year I could, and I'm glad because I know how much Gale loves KU."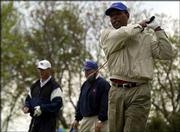 On Friday afternoon, nearly 90 people teed up at Alvamar and participated in the ninth annual Sayers benefit that raises about $15,000 for scholarships for the Kansas University School of Education.
Skahan, who lives in Lawrence, was the Jayhawks' quarterback in the mid-'60s when Sayers was a two-time All-America halfback.
Later, Sayers went on to even greater fame with the Chicago Bears of the NFL, eventually earning a berth in the Pro Football Hall of Fame.
Sayers, who owns a bachelor's degree in physical education and a masters degree in educational administration from KU, was named to the School of Education national advisory board in the early '90s and the idea of a benefit golf tourney evolved.
"Most universities need money for scholarships," Sayers said before teeing off Friday, "and we just decided to do it."
Sayers has had plenty of experience with benefits. He is actively involved in several charities in the Chicago area where he lives. One golf event for the Marklund Children's Center raises about $150,000.
"I've been doing that one for about 20 years," Sayers said.
Sayers is also a board member of Junior Achievement, the Boy Scouts, Boys and Girls Clubs of America, the Better Boys Foundation and the Cradle Adoption Agency (his oldest son is adopted).
"The man upstairs has been good to me," Sayers said, "and if I can help I don't mind."
Sayers is president of Sayers Computer Source, a company he founded with his wife Ardie in 1984. Today the company has 10 branches throughout the country.
All in all, Sayers is one of Kansas University's most lustrous graduates. He came to KU after a sparkling high school career in Omaha, Neb., lured by football coach Jack Mitchell.
"Jack Mitchell did a good job of recruiting me," Sayers said. "He had a lot of BS, but he was a good coach. Also, Nebraska wasn't doing that well in football then and Kansas had won the Big Eight in 1960 and I figured I'd get noticed more if I went to Kansas."
Today Sayers cuts a trim figure for a man who will turn 59 at the end of this month. He works out five days a week and weighs 10 pounds less now than he did when he was playing for the Chicago Bears at 205 pounds.
Sayers was a pro sensation, scoring a then-record 22 touchdowns as a rookie in 1965. He was an All-Pro for five of the six years he played in the NFL. His career was cut short by knee injuries.
"I had three knee operations in football and three when I got out of football," he said. "I have some arthritis, and I may need a knee replacement in a few years, but right now I can still walk 18 holes."
One thing he can't do is jump like he did 41 years ago. At the 1961 Nebraska high school track and field championships, Sayers leaped 24-10 1/2 in the long jump. No Cornhusker State prep has come within eight inches of that record. In fact, the longest long jump by a high schooler in the country this spring is 24-9 1/2.
"That's amazing," Sayers said of his Nebraska prep long jump record. "When you think that was 40 years ago and all the technology they have today in tracks and shoes, and the record is still there."
Sayers is also a member of the KU Athletic Corp. board. He had staged his benefit golf tourney to coincide with the KUAC's final board meeting of the school year, but that meeting had to be postponed until next Thursday.
Copyright 2018 The Lawrence Journal-World. All rights reserved. This material may not be published, broadcast, rewritten or redistributed. We strive to uphold our values for every story published.