Wichita — Nearly two weeks after a snow and ice storm knocked out power to 435,000 Kansans, 1,320 people were still waiting for the electricity to come back on, the adjutant general's office said Monday.
"A lot of people who are left are without electricity because the ice storm pulled the electric wires out of the house, and it takes an electrician to come and reconnect the house that means it is going slower," spokeswoman Joy Moser said.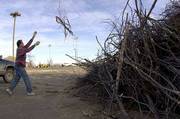 Other outages are scattered throughout the state, she said.
Meanwhile, disaster officials continued to tally the damage from the storm. With all counties surveyed, damage estimates are $48.17 million in Kansas, Moser said. Those figures are for public infrastructure damage such as public utilities, roads, bridges and public buildings that are potentially eligible for disaster assistance.
Much of that was in Johnson County, where nearly $11.6 million in damage was reported. Other counties with major damage included Wilson with $6.5 million and Wyandotte with $4.04 million in infrastructure damage, according to the adjutant general's office.
Franklin County reported $4 million in damage, with Coffey County reporting $3.98 million in damage.
Here is a breakdown of estimated infrastructure damage in area counties, according to the adjutant general's office:

Douglas: $348,000Franklin: $4 millionJohnson: $11.656 millionOsage: $150,000Wyandotte: $4.04 million
President Bush declared a disaster in 35 counties across Kansas last week.
Counties eligible for assistance are Allen, Anderson, Barber, Bourbon, Butler, Chautauqua, Cherokee, Coffey, Comanche, Cowley, Crawford, Douglas, Elk, Franklin, Greenwood, Harper, Jefferson, Johnson, Kingman, Kiowa, Labette, Leavenworth, Linn, Lyon, Miami, Montgomery, Neosho, Osage, Pratt, Sedgwick, Shawnee, Sumner, Wilson, Woodson and Wyandotte.
Copyright 2018 The Associated Press. All rights reserved. This material may not be published, broadcast, rewritten or redistributed. We strive to uphold our values for every story published.