The Lied Season is bringing a bit of Russia to its stage this season.
The lineup includes performances by the Moscow Boys Choir, St. Petersburg String Quartet, Russian State Opera and pianist Olga Kern. In addition, cellist David Finckel and pianist Wu Han will present a concert of works by Russian composers.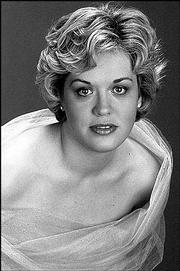 "I'm really pleased with the way things have come together," said Tim Van Leer, executive director of the Lied Center.
Van Leer said the Russian programs tie into the St. Petersburg Tercentenary Celebration being observed this academic year by several Kansas University organizations, including the Center for Russian and Eastern European Studies, the Hall Center for the Humanities, the Slavic languages department and Continuing Education. St. Petersburg was founded in May 1703 by Peter the Great.
"I'm really excited about bringing in Olga Kern," he said. "(She'll be) in residence for several days and (we hope) to link her up with a Russian studies class."
The season kicks off with the Seventh Annual Free Outdoor Concert, featuring Celtic fiddle player Natalie MacMaster, at 7 p.m. Aug. 23 on the northeast lawn of the Lied Center.
The concert will be preceded by the Family Arts Festival from 6 p.m. to 7 p.m.
The rest of the lineup is:
Concert series
Oct. 4: Cullberg Ballet in "Swan Lake," an all-male company from Sweden, 7:30 p.m.
Nov. 1: National Symphony of Mexico, featuring works by Astor Piazzolla and Leonard Bernstein, 7:30 p.m.
Singles tickets for the 2002-2003 Lied Series are available at the Lied Center Box Office, 864-ARTS.Tickets range from $11 to $40, depending on age and location of seat.
Feb. 22: The Russian State Opera in Giacomo Puccini's "Tosca," 7:30 p.m.
March 27: Pianist Olga Kern, winner of the gold medal in the 2001 Van Cliburn competition, 7:30 p.m.
April 13: Sweet Honey in the Rock, a program of spirituals, gospel, jazz and blues, 7:30 p.m.
Swarthout Chamber
Music Series
Nov. 10: Turtle Island String Quartet and Ying Quartet, featuring the premiere of a work commissioned by the Lied Center, 2 p.m.
Nov. 24: St. Petersburg String Quartet, featuring Shostakovich's "Quartet No. 2," 2 p.m.
March 9: Cellist David Finckel and pianist Wu Han, featuring works by Prokofiev, Shostakovich and Rachmaninoff, 2 p.m.
April 6: Cantus, an all-male vocal group from St. Olaf College in Minnesota, 2 p.m.
New Directions Series
Oct. 24-25: Urban Tap, a multimedia contemporary dance and music event, 7:30 p.m. Oct. 24 and 9 p.m. Oct. 25, Liberty Hall, 644 Mass.
Feb. 7: David Parsons Dance Company featuring the Ahn Trio, a mix of modern dance and piano trio, 7:30 p.m.
April 5: Twyla Tharp, modern dance, 7:30 p.m.
April 12: "Brown Butterfly," a multimedia performance inspired by Muhammad Ali, 7:30 p.m.
Broadway and Beyond Series
Oct. 26: "South Pacific," a musical based on stories by James Michener, 7:30 p.m.
Nov. 4-5: "Rent," Tony Award- and Pulitzer Prize-winning contemporary musical, 7:30 p.m.
Dec. 10-11: Michael Flatley's "Lord of the Dance," a program of Irish music and dance, 7:30 p.m.
Feb. 19: "Cabaret," a Tony Award-winning musical, 7:30 p.m.
March 1: "Blast II: Shockwave," a mix of brass, percussion and visual ensemble, 7:30 p.m.
Lied Family Series
Nov. 23: Moscow Boys Choir, 7:30 p.m.
Jan. 24: Trout Fishing in America, a mix of folk, pop, rock, R&B; and reggae, 7:30 p.m.
Feb. 28: Trio Voronezh, classical and folk music played on Russian instruments, 7:30 p.m.
March 29: Peking Opera, acrobatics and drama depict the characters and stories of China's culture, 7:30 p.m.
World Series
Sept. 14: Musician Robert Mirabal and RareTribalMob, incorporates traditional
American Indian music, instruments and dance, 7:30 p.m.
Oct. 12: Ragamala Music and Dance Theater, a blend of the dance, music and poetry of India, 7:30 p.m.
Feb. 28: Trio Voronezh, 7:30 p.m. (see above)
March 29: Peking Opera, 7:30 p.m. (see above)
Copyright 2017 The Lawrence Journal-World. All rights reserved. This material may not be published, broadcast, rewritten or redistributed. We strive to uphold our values for every story published.