Kansas University students aren't the only ones learning atop Mount Oread.
Children of KU students take on a full educational load at two child-care centers on campus, part of a culture of learning that doesn't begin with mailing in a transcript and enrolling in English 101.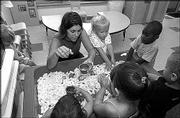 "We get very upset when people call us a day-care center, because then it sounds like all-day baby-sitting," said Pat Pisani, executive director of Hilltop Child Development Center Inc., 1605 Irving Hill Road. "The children we have are learning from the time they walk in the door till the time they leave.
"You say 'day care' in connection with Hilltop, and we get cranky. We're much more than that."
Both Hilltop, with room for 212 children, and the Edna A. Hill Child Development Center, with space for 56 more at 1000 Sunnyside Ave., are built upon a foundation of education.
And both welcome children of KU students, faculty and staff.
"It's a very important service for families," Pisani said. "We provide an environment that's secure and we surround them with educational opportunities. People expect that."
At Hilltop, children from 1 year old through fourth grade fill 12 classrooms in a two-year-old building that cost $3.3 million. Inside, they learn about shapes and colors in the toddler room, and mathematics in classes for 4- and 5-year-olds.
The center places a preference on serving children of KU students, because KU students picked up 65 percent or nearly $2.2 million of the project's cost, Pisani said.
"In order to thank them for that, we try to make sure we get up to 65 percent of our children in the center from KU students," Pisani said. "The university wasn't going to build it without the students."
All full-time students on the Lawrence campus pay $4 per semester to help cover the Hilltop costs. Like staff and faculty, students enrolling children at Hilltop pay tuition based on a number of factors, including income and ability to pay.
Scholarships available
Scholarships also are available for students. The center provides nearly $100,000 a year in scholarships, through grants from the U.S. Department of Education, KU's Student Senate and Douglas County Child Development Assn.
Unlike other scholarships, grade-point averages aren't a factor.
"It doesn't depend on the parents' academic performance," Pisani said.
To be enrolled at the center, a child must be at least 1 by Aug. 1. Submitting an application packet costs $10 to $20, and a $75 deposit is due upon enrollment.
The center's waiting list ranges depending on a child's age. Last month, the list included more than 90 children under 3; another 30 were 3 or older.
The center won't take applications until a child reaches his or her three-month birthday.
"We don't take names anymore before babies are born," Pisani said. "There's an old joke floating around that when someone finds out they're pregnant, the first thing they do is call Hilltop and then they tell their husband.
"I don't know who started that one years ago, but we don't do that anymore."
Hilltop was the first center in Kansas to be accredited by the National Association for the Education of Young People. Today it has nearly three dozen full-time staffers, plus another 60 part-time students to assist in the care and education of children.
Hilltop's new building opened in August of 2000, and quickly became a welcome change from its previous home south of Smith Hall and across Jayhawk Boulevard from the Kansas Union.
The old place cost only $1 a year to rent, but also had only four parking spots for parents to drop off and pick up their children. There were no reserved parking spaces for employees.
The new building costs Hilltop $81,300 a year to rent, but it also allows for more services and plenty of parking spaces. Parents have about two dozen parking spaces for dropping off their children, and there are about three dozen spaces set aside for staff.
The building is located just southwest of the Burge Union, near KU's Stauffer Place apartments for married students.
"It's a very nice site," Pisani said.
Students teach
Farther east, inside the Dole Human Development Center on campus, is the Edna A. Hill Child Development Center, operated by KU's Department of Human Development and Family Life.
The center's tuition is less expensive than enrollment at Hilltop, and that's because many of the people handling education and care are KU students studying to become preschool teachers. Instead of being paid for their services, the students earn credit toward their degrees.
Teri Varuska, program coordinator, said the students were overseen by graduate teaching assistants, who in turn were supervised by program coordinators, who have master's degrees in early childhood education.
The center has two sections: Sunnyside Infant/Toddler Program, which cares for children through age 212; and Educare Preschool Program, which cares for children from ages 212 until 6.
Together, the center has room for nine infants, 12 toddlers, 15 from age 212 to 4 and another 20 from the beginning of age 4 to the end of age 5.
The center's services are open to anyone in the community KU students, staff, faculty or otherwise. The center's waiting list extends beyond 100 names, and that's only for Educare.
"Everyone knows about Hilltop, nobody knows about us and we still stay full," Varuska said. "Word of mouth does a lot."
The center is open only when the university is, which means services don't start until Aug. 22 and the center is closed during breaks. Such schedules don't always fit in with parents' plans, Varuska said.
But there are benefits.
"We're inclusionary," she said. "We take children with special needs. We individualize plans for all our children. We track their skills in concept formation, social skills, self-help skills, small-movement and large-movement skills. We can do a lot with the staff we have.
"It's really what parents want for their kids."
Children at the center also may participate in research studies, which can pay off not only for the children but also for the improvement of child care overall. Past research has focused on transitions to kindergarten, readiness skills and other topics.
Copyright 2018 The Lawrence Journal-World. All rights reserved. This material may not be published, broadcast, rewritten or redistributed. We strive to uphold our values for every story published.