Visit website 817 Massachusetts St., Lawrence, KS 66044 Open today until 5:30 p.m.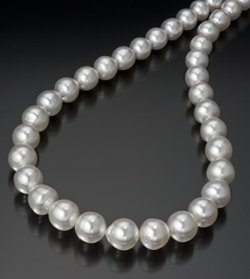 We offer a wide varity of pearl strands. Pearls are labeled based on their origin.
Akoya: Cultured in the islands of Japan, these are considered the most common pearls and can be viewed in many jewelry stores. Sizes range from 2 to 11 mm.
Chinese Freshwater: Cultivated in mussels in lakes and rivers, these pearls grow in a variety of colors and shapes. They are very affordable.
South Sea Pearls: These pearls are cultured from the silver or white-lip oyster, primarily in the northern waters of Australia, Indonesia and the Philippines. They grow to exceptional sizes ranging from 10 to 20 mm. These pearls are highly prized and precious.
Tahitian Pearls: Cultured from the black-lip oyster in the waters of the South Pacific, these pearls come in sizes ranging from 10 mm to 20 mm. They also come in a variety of colors including black, gray, burgundy, peacock and gold. Mystical and dark, the popularity of Tahitian pearls has surged in recent years.