Visit website 600 Lincoln Street, Lawrence, KS 66044 Open today until 5 p.m.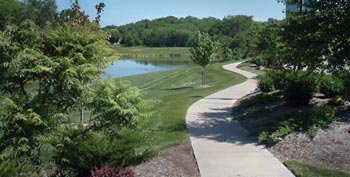 Lawrence Landscape offers complete commercial and residential lawn maintenance. We offer a wide array of services to keep your lawn looking its best.
Our Turf Care Program is a great way to strengthen the existing grass while controlling unsightly weeds. Throughout the year, we will make five stops at your property. Four of these will be fertilizer applications and the fifth will be a preventative grub application. Our first application of the year contains a crabgrass preventative. Each application comes with spot treatment of broadleaf weeds such as dandelions or clover.
Another one of our more popular services is our Mowing Program. Each visit consists of mowing, trimming, and blowing clippings off sidewalks and driveways. We recommend having the property mowed once-a-week during the normal growing period. Adjustments are likely to be made to the schedule due to varying weather conditions.

For those properties that are equipped with an underground irrigation system, we are capable of performing any necessary services to the system. During late spring and early summer, the systems will be turned on and backflow devices will be tested. We will send the city the necessary paperwork it requires. At this time, any repairs or adjustments will be made. As colder weather approaches, Lawrence Landscape will winterize your system with compressed air. Any problems with the system will be noted and reported to you before any repairs are made.
Lawrence Landscape offers a number of other services. Some of these include lawn aeration, bagworm sprays, fungicide applications, bed weeding, shrub pruning, and mulch topdressing. A Lawrence Landscape representative would be more than happy to speak with you about these or any other services.