About Us / Parent's Morning and Afternoon Out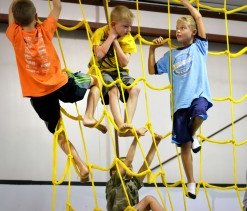 Complete details about Parents' Morning and Afternoon Out programs here.
Need two and a half hours to run errands, workout, or just some time to breathe? Our Parent's Morning Out and Parent's Afternoon Out programs are fun for kids and perfect for the busy Mom or Dad who need just a little time!
Our program is a semi-structured free play program with the focus on socialization skills. Children are also introduced to new play environments and a few basic gymnastics skills. They play together in the party room to begin and then proceed into the big gym for games and free time. Snack and potty time is next and then more gym time! And to finish the morning, we end up with a story or a short craft.