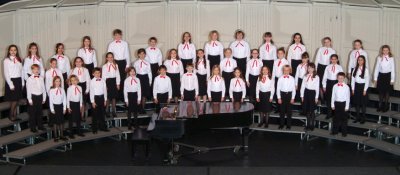 Rehearsals: Tuesdays 4:45 - 5:30 pm
  Choral Room
  Lawrence Free State High School

The Choristers is a beginning level training choir, formed to provide vocal training with a focus on reading skills, pitch matching, performance techniques and vocal independence.
Membership is limited to singers in the 3rd through the 6th grades. In this choir, the fundamentals of choral singing are presented and the process of learning to read notes and rhythms is begun.
Head voice tone and accurate pitch reproduction are stressed.
The Choristers is a two-semester commitment. The First semester runs September to November, and the Second semester runs January to March.
Please see Scholarship Form and Guidelines for additional details.
Readiness checks, held in August, are used to determine the singer's placement in Choristers.
Call 841-0080 with any questions.