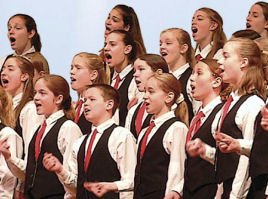 The Lawrence Children's Choir is a not-for-profit arts organization which offers vocal training and musical fellowship to young artists ages preschool through 9th grade. Children from many different backgrounds benefit from participation in our choral programs.
Students interested in the Tour Choir are placed into the appropriate choir level determined by their musicianship and individual maturity. Choir placement is determined through an audition conducted annually in May.
The choirs strive for musical excellence through the finest music, including challenging works by master composers, musicianship training in vocal technique, skill development and music reading, the inspiration and joy of shared musical harmony, and the fulfillment that comes from public performances.
These same experiences foster positive character qualities such as persistence, honesty, responsibility, stamina, courage, cooperation, and self-discipline.
LCC firmly believes that the benefits to one's self-esteem resulting from a commitment to quality music education are both far-reaching and long-lasting.

The organization is currently divided into three levels to best match each student's abilities:
LCC Tour Choir LCC Choristers LCC Cadenza