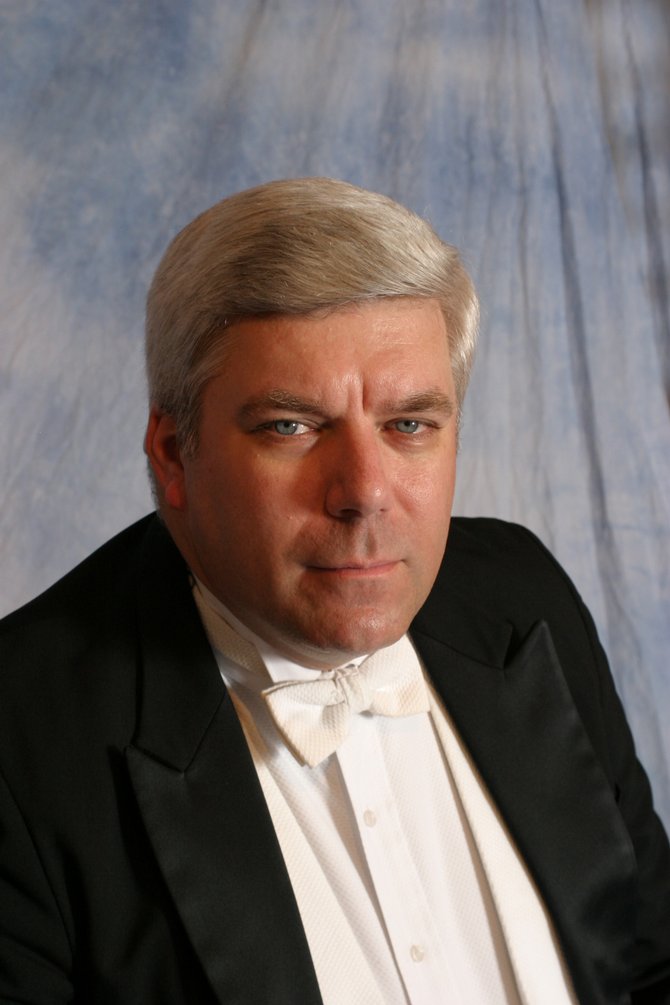 Meet the LCO Music Director
Steven McDonald is one of today's most versatile musicians, equally at home in such diverse areas as orchestral conducting, continuo playing, or vocal coaching. Mr. McDonald passionately believes that the deepest comprehension of music comes from an understanding of the interrelationships formed across lines of genre and performance, bringing one to a more profound understanding of music itself. It is this conviction that he shares with colleagues and audiences through his performances.
Originally from Reading, Massachusetts, Mr. McDonald is a graduate of the Boston University School for the Arts and the Sweelinck Conservatory of Amsterdam (The Netherlands), and he is currently completing the Doctor of Musical Arts degree at the University of Kansas School of Fine Arts. His teachers have included Brian Priestman, Nicholas Uljanov, Joop van Zon, and Thomas Dunn for conducting, Henk van Eeuwijck and Leo Abbott for piano, Craig Rutenberg for vocal coaching, and George Faxon for organ.
Mr. McDonald has served on the faculties of the University of Kansas, Boston University, and Gordon College. He has also served as music director of Musica Modus Vivendi of Harvard University. While at the Massachusetts Institute of Technology, he was founder and music director of the Summer Opera and Independent Activities Period orchestra, and he served as conductor of the MIT Chamber Orchestra and of the Gilbert & Sullivan Players. At the University of Kansas, he served as assistant conductor of the K.U. Symphony, and he was the founder and music director both of the Camerata (a chamber orchestra for non-performance majors), and of the chamber orchestra "Sine Nomine," a select ensemble of both undergraduate and graduate performance majors. Additionally, he has served as vocal coach to numerous students and faculty from K.U. and area colleges, and he conducted the K.U. Opera productions of Candide and The Magic Flute.
Yet another aspect of Mr. McDonald's musicianship is his love of the very best 20th-century popular music styles. He is currently active as music director of the Lafayette Swing Orchestra, a "society orchestra" modeled after the great hotel orchestras of the 1930's, and based in Wakefield, Massachusetts. This ensemble, which combines the lushness of strings with the excitement of a swing-era big band, was the resident orchestra at Boston's Harvard Club for their annual New Year's Eve celebrations.
In June 2007, he was appointed conductor of the Lawrence (Kansas) Chamber Orchestra, having previously served as guest conductor in 2003. The orchestra's traditional season highlights include a candlelight baroque concert (conducted from the harpsichord), and a finale concert featuring winners of the annual young artist competition.
Mr. McDonald currently serves as Assistant Professor of Music and Director of Orchestral Activities at Ottawa University, a private liberal arts college in Ottawa, Kansas, where he directs the orchestra, gives private coachings, and teaches a wide range of music classes.
Meet the Lawrence Chamber Orchestra Chris Harnden, concertmaster
A seasoned performer at both the orchestral and chamber player levels, Chris Harnden has been the concertmaster of the Lawrence Chamber Orchestra since 1975. She has performed with the St. Joseph Symphony and the Kansas City Symphony. Mrs. Harnden began her academic preparation at the Mannes School of Music as a student of William Kroll in New York and completed her B.S. Degree in Violin Performance under Dr. Howard Boyajian at the University of Kansas. While a student at the University, she performed with the faculty string quartet.
Subsequent to her formal academic preparation, she took master classes from Raphael Bronstein and Arianna Bron at the Manhattan School of Music. She has also been an adjunct violin instructor at Mid-America Nazarene University and has a private studio of her own.
Orchestra: 2008-2009 season roster
Violin I
Chris Harnden, concertmaster
Noemi Miloradovic
Kenya Patzer
Christian Fatu
Shan-Ken Chien
George Watkins

Violin II
Eric Williams, principal
Signe Sandquist
Rob Patterson
Amy Gowans Misty Elsford
Viola Carrie Rohr, principal Lubomira Paskaleva-Kulzer Monty Carter
Cello Trilla Ray-Carter, principal Matthew Herren

Bass Larry Rice
Meet the LCO Board of Directors and Staff
President: Jackie Bogner Software engineer; arts advocate/community volunteer; writer/editor
Vice President: Terri Chauvin Community arts advocate/volunteer
Secretary: Judy Hathaway Retired special educator; community volunteer
Joan Krehbiel Pease Piano teacher, writer, editor
Lucy McAllister Retired Minnesota arts educator K-12; curriculum designer; flutist
Staff
Web Designer: Nathan Howe Assistant Professor of Architecture Kansas State University
Recording Technician: Bill Beningfield Theatre organ/piano musician; retired engineering-physicist
Graphic Designer: Dave Gnojek Graphic Designer and President, Designojek
Reception coordinator: Lori Schlenker Assistant to the Director, The University of Kansas Natural History Museum and Biodiversity Research Center