Visit website 913 Tennessee St, 2, Lawrence, KS 66044 Opens Monday at 8 a.m.
Products / NEW!! "Kansas Go-To Guide"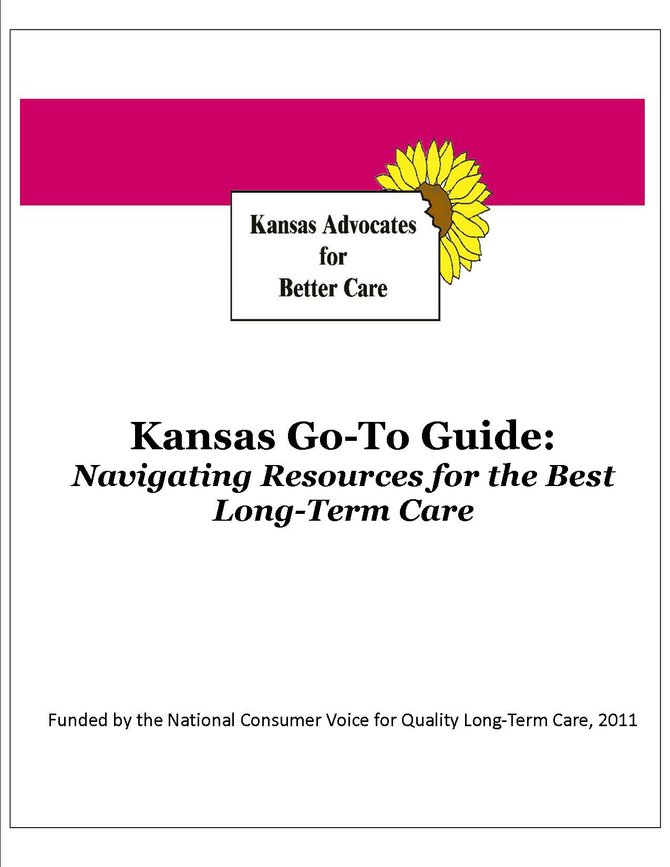 Kansas Advocates for Better Care has put together an important resource with you in mind – "you" being the long-term care consumer!   In the December 2010 newsletter we mentioned that KABC was one of three organizations, nation-wide, to be awarded a grant from the National Consumer Voice for Quality Long-Term Care. The purpose of the grant was to produce a long-term care consumer guide that will empower consumers to be proactive about the quality of their care. The guide represents a collection of information about organizations that provide resources and services for people with mental, physical, and/or developmental disabilities, veterans, the elderly, and caregivers.  As of April, it was submitted and printed!  Available both online and in print, the guide is FREE, and illustrates how to put the pieces of long-term care together. The guide is for the new-user or someone already receiving services. 
 We need to hear from YOU!  There is a survey online for you to provide feedback about the guide.  We value your thoughts and input.  You can find a copy of the guide, and an online survey to take, on our website at www.kabc.org or if you would like a copy mailed to you, please contact us in Lawrence at 785-842-3088 or toll-free at 800-525-1782.

Thank you to all of you great advocates!