Visit website 4931 W. 6th St, Ste 130, Lawrence, KS 66049 Opens today at 11 a.m.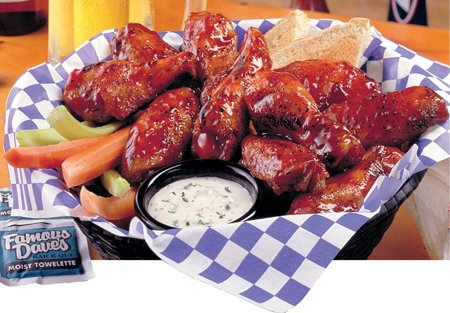 Ramp up your tastebuds, all of our tasty starters are sure to whet your appetite for even more mouthwatering barbeque.
Dave's Sampler Platter Spareribs are just the starter. Add fried chicken tenders, catfish fingers, onion strings and traditional or boneless wings with your choice of sauce.
Chicken Tenders Served with a side of our Sweet Soul Jalapeño dipping sauce.
NEW Not'cho Ordinary Nachos Tri-colored tortilla chips topped with Wilbur Beans, Famous Chili, shredded lettuce, tomato, jalapeño, Cheddar cheese, seasoned sour cream, Rich & Sassy® and your choice of barbequed meat: Texas beef brisket, Georgia chopped pork, or pulled BBQ chicken.
NEW Loaded BBQ Chips Dave's chips fresh-made right in the kitchen. Loaded with jalapeño bacon and diced tomato then topped with tangy bleu cheese dressing and crumbles.
Rib Tips Hickory-smoked tips served on a bed of Famous Fries.
Sweetwater Catfish Fingers Tender strips lightly breaded with Cajun-seasoned cornmeal and flashfried. Served with our rémoulade and Sweet Soul Jalapeño sauces.
Onion Strings Lightly-breaded and flash-fried, served with rémoulade dipping sauce.
CHICKEN WINGS Sauces: Rich & Sassy, Buffalo, Devil's Spit, Pineapple Rage, Wilbur's Revenge
Traditional Wings Dave's traditional wings, specially seasoned and tossed in your choice of sauce.
Dave's Amazingly Boneless Wings No bones about it! These BBQ wings are amazingly meaty all the way through. Tossed in your choice of sauce.