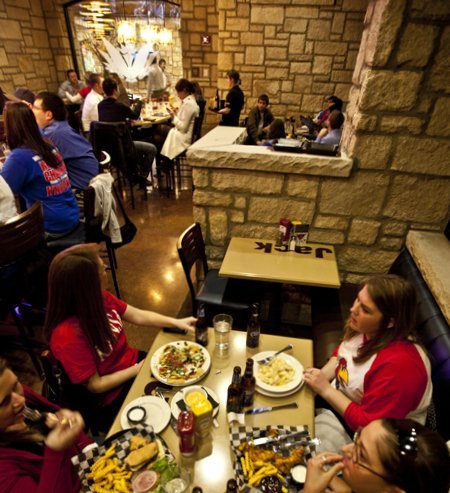 The Oread is the place to satisfy every appetite. No matter how much time you have, we can provide you with a perfect meal any time of day.
Valet parking is complimentary for 2 hours, and $5 after 2 hours, with a food & beverage or spa purchase.
Bird Dog Bar If you're looking for lunch and a favorite beverage, the Bird Dog is for you. Featuring an American sportsman theme, the Bird Dog is decked out with eleven 50 inch flat-screen televisions, a spacious bar, plenty of comfortable tables and an opening onto an outdoor terrace that looks out toward the north gate of the KU campus. Located just inside the main lobby, you can find the Bird Dog open often. Call 785.830.3921 to contact the restaurant. Sunday to Thursday: 11am - midnight Friday & Saturday: 11am - 12:30am *Kitchen closes at 10pm Sun.- Thurs. and 11pm Fri. & Sat.
Five 21 An elegant and intimate setting for a spectacular menu developed by local Chef TK Peterson including local grown ingredients. Five 21 also features one of the region's most complete wine lists, along with a well-stocked bar. Call 785.830.3921 for reservations or click here for online reservations. Serving dinner only, hours of operation are: Sunday - Thursday: 5pm - 10pm Friday & Saturday: 5pm - 11pm Kitchen closes at 10pm Sun.- Wed. & 11pm Thurs.- Sat.
Five 21 To Go Catch a quick breakfast at the Five 21 To Go breakfast bar and enjoy it in the restaurant, on the terrace or on the go. The Five 21 To Go breakfast bar features a variety of tasty breakfast options and your favorite morning beverage to start the day off right. Open daily 7am - 11am Click here to view menu.
A Slice of History The history of the area is an organizing theme of The Oread and its pizza restaurant is no exception. Come on over and you'll see what we mean. Oven-baked gourmet pizzas like The Jayhawker, The Rah, Rah, and The Nightshirt Parade. Dine in or Carry Out. Call 785.830.3910 to contact the restaurant. Open daily 11am - 10pm (open Fridays & Saturdays until 3am when school is in session) CLOSED NOVEMBER 22-25th 2012
The Terraces The Oread offers some of the best views and al fresco dining in Lawrence. The Terrace on Fifth is open daily 8am - 10pm for observation and seasonally for dinner and drinks, except when closed for private events or inclement weather. Our ninth floor terrace, The Nest on Ninth, will open Wednesday - Saturday at 4pm through the 2012 season, except when closed for private events or inclement weather. The Nest boasts the best views in the region! To view The Nest outside of public hours, please see the front desk. Special game day and private event schedules may apply; check the event calendar for the latest updates. All terrace schedules are weather permitting. Click here for the most up to date schedule.
Coffee Corner at The Oread We Proudly Serve Starbucks® Coffee! Open daily from 7am - 5pm. Click to view menu.
Jimmy John's Gourmet Sandwiches All of Jimmy John's tasty sub sandwiches are a full 8 inches of homemade French bread, fresh veggies and the finest meats & cheese you can buy! And if it matters to you, we slice everything fresh everyday in this store, right here where you can see it. 'YOUR MOM WANTS YOU TO EAT AT JIMMY JOHN'S!' Open daily 10am to 3am
Large Group Reservations When booking a meal at The Oread, groups of 20 or more will be directed to our banquet department. If you prefer to order off a restaurant menu instead, a limited menu will be provided. Groups under 20 will have their choice of which route best suits their needs. Please call 785.843.1200.