Anniversary
Samuels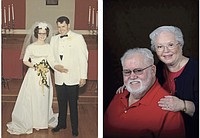 Danny and Judy Samuels will celeb­ rate their 50 years of love with a reception from noon­3 pm. on Saturday, April 8, in the Lake Shawnee Garden House, Topeka.
They were married on April 8, 1967 in Eudora, Kansas.
Mrs. Samuels is the daughter of Yoland and the late John Reeves of Eudora. She is retired from the State of Kansas as a computer programmer for the Department of Corrections.
Mr. Samuels is the son of the late Edith and late Paul Samuels of Lawrence. He is a retired bus driver for the City of Topeka.
They have two children, John Samuels and his wife Jessica, of Topeka; and David Samuels and his wife Leslie, of Tecumseh. Their family also includes four grandchildren, Grace, Mackey, Dalton and Evalyn.